APPLIED ARTIFICIAL INTELLIGENCE WORKSHOP 2019 (FOR EXECUTIVES)
Discover how to apply AI to real-world business problems, hear about real results from industry AI practitioners and learn how to tangibly deploy AI solutions into your organization.

BootstrapLabs in partnership with Talio Technology, Symphony and The Office of the CIO, are thrilled to announce our ANNUAL APPLIED ARTIFICIAL INTELLIGENCE WORKSHOP. Pre-BootstrapLabs Applied AI Conference 2019 exclusive workshop.
This year, our workshop is focused on providing actionable insight exclusively to those poised to make critical decisions for the future of their companies – CIOs, VPs, Executives and Tech Leaders.
Registration opens at 8am, the event starts at 9am sharp!
Who is this workshop for?
CIOs, VPs, Directors, Senior Managers, and any experienced leader in software engineering who has the power to help make critical decisions for their companies.
What will you learn?
In this workshop you will gain insights into the practical approaches to take advantage of AI's powerful potential, interface with other leaders in AI and more importantly gain practical takeaways of how to generate real business results for your organization.
Exclusive Event Location
Held at The Battery, one of San Francisco's most exclusive Members Only clubs, this day-long workshop will help you cut through all the noise and buzzwords in Applied AI with content specifically designed for business decision makers. To ensure a high-quality experience for those attending, this curated event only has a limited number of seats available. All attendees will be vetted to ensure they meet the qualifications to attend based on their role or title.
Event Agenda
Breakfast, Lunch and snacks are included.
8am – 9am – [Event Registration Open]
9:10 – 9:55am – Executive Panel Discussion "AI in the Boardroom" + Breakfast Served
10:00 – 11:30am – "Demystifying AI for Business Leaders" + Hands-on Workshop
11:30am – 12:30pm – [Lunch Break]
12:40 – 1:15pm – Case Study – "Going from Problem to Final Results with AI"
1:20 – 1:50pm – Case Study – "Achieving Business Results through AI"
1:50 – 2pm – [Closing Remarks]
Our All Star List of Guest Speakers
EXECUTIVE PANEL DISCUSSION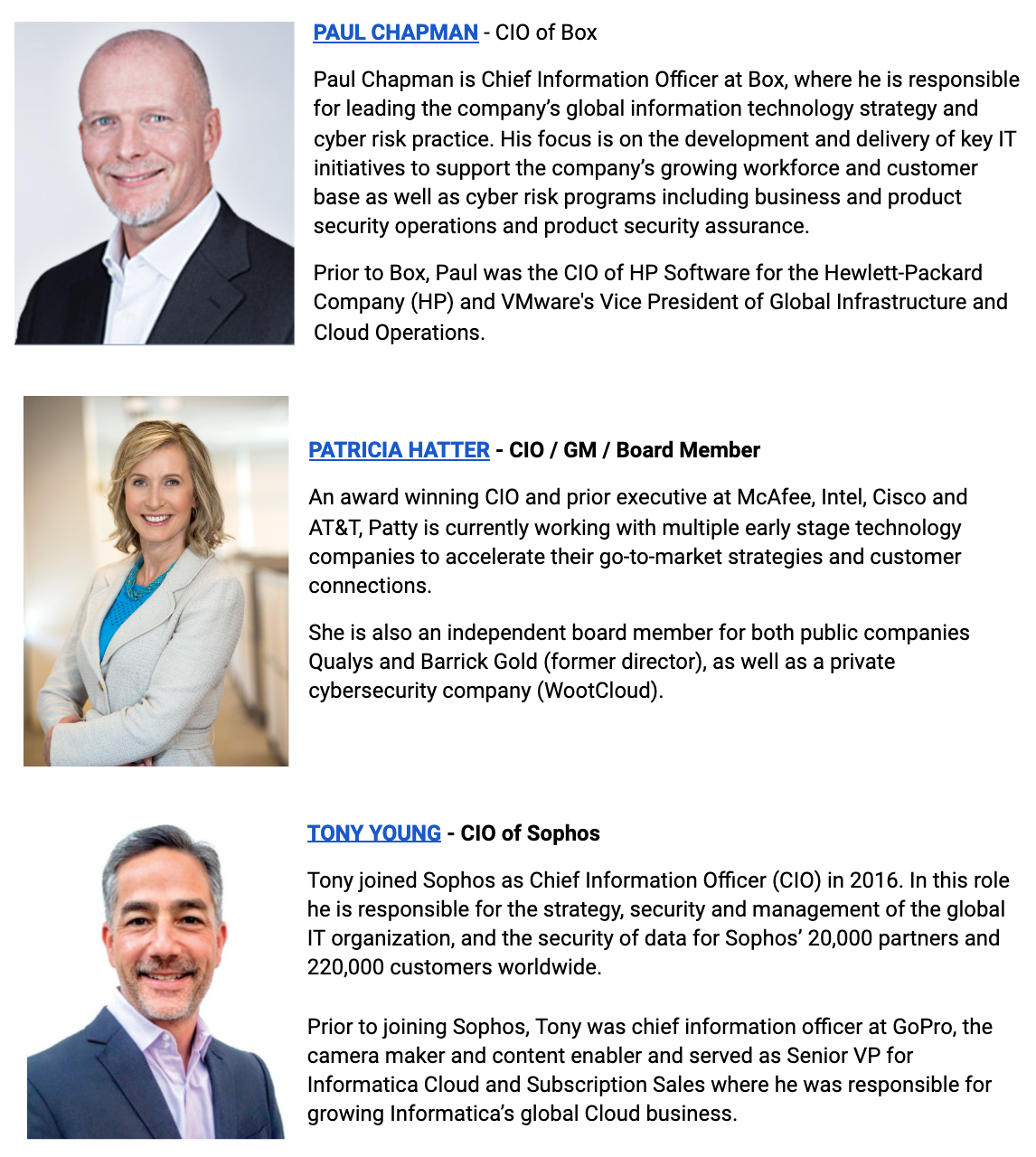 DEEP DIVE AND CASE STUDY SPEAKERS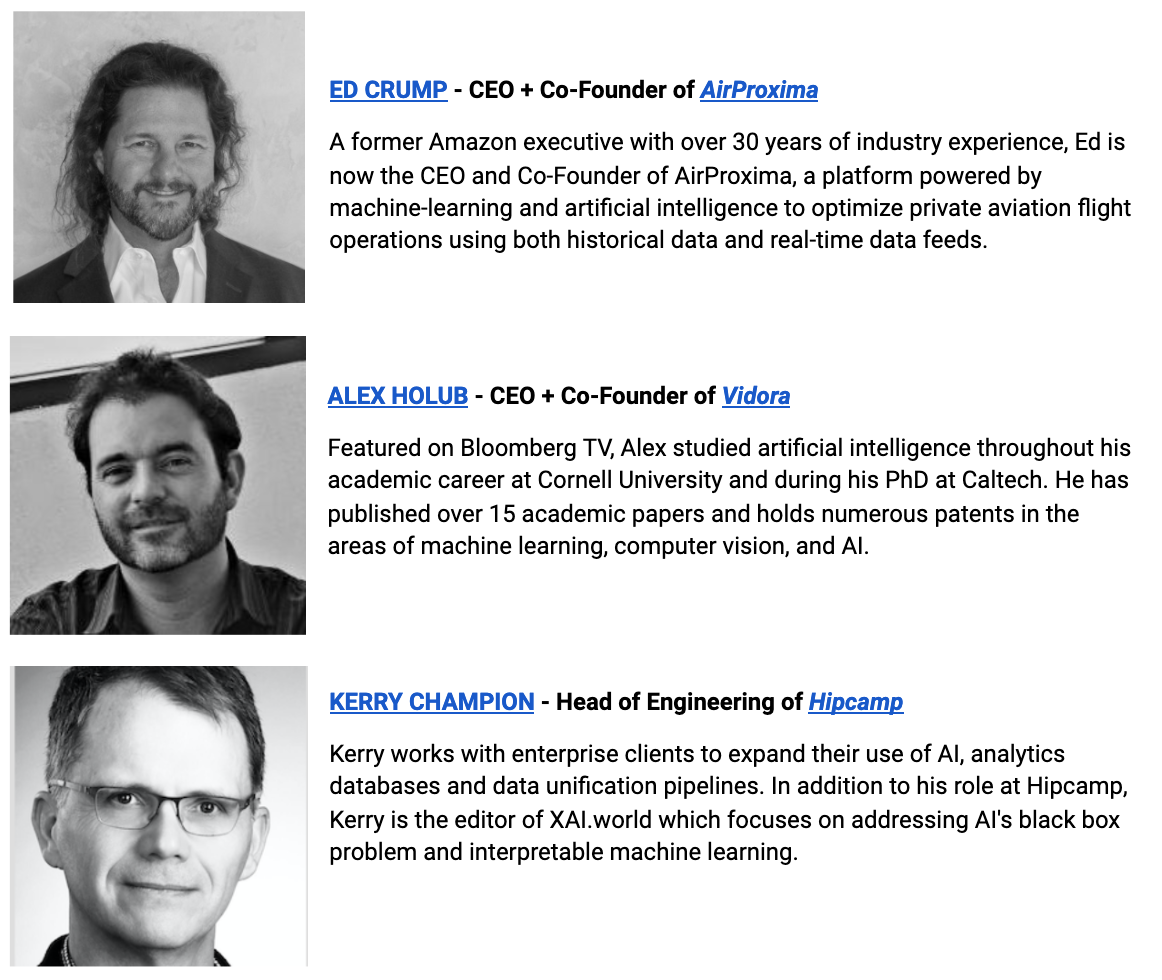 ---
About the Event Sponsors
Talio Technologies – Talio powers the talent transformation of leading companies by equipping their workforce with the knowledge and skills to leverage emerging technologies to compete in tomorrow's economy. As top technologist educators, Talio is committed to building engineering communities that inspire growth beyond the classroom.
Symphony – For nearly 10 years, Symphony has focused on building thriving teams of engineers that empower global entrepreneurs to make their vision real. With teams that span from San Francisco to Sarajevo, Novi Sad, Belgrade, Skopje and Amsterdam, Symphony is able to tap into local culture and wider technology trends that reflect the world and ensure that their solutions are at the forefront of technological advancement.
OOCIO – The Office of the CIO Community (https://www.oocio.org/) is an energetic, dynamic, and collaborative group of information technology executives. The organization is dedicated to improving the value of its members to their company, community, and to the profession.