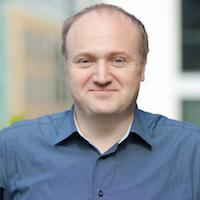 BootstrapLabs
Founder and CEO, BootstrapLabs
BootstrapLabs Speaking Engagements and Articles
I am a Founder, Advisor, Parallel Entrepreneur, Operator, Angel Investor, frequent Guest Speaker, Mentor and Judge at Universities and Conferences in the US and Europe.
In my previous life I was a multiple time startup CEO, CTO. Raised capital from Angels, Private Equity, Investment Banks and VC's. Angel investor and adviser to Internet, Software, Mobile and Digital Media startups in Europe and Silicon Valley.

I am very focused on product and technology development within the Machine Learning, Big Data, Analytics, Internet, Mobile and Software/Cloud sectors.

My favorite part of my job is… I get to work with the smartest people in the world and build the future
"BootstrapLabs founders are some of the most passionate and smart people I have ever known and I am humbled by being able to be a small part of their journey."
I have been writing code since I was 10 years old, and still speak Java fluently. I've lived in various countries over the years, including Curacao in the Caribbean. I also interacted with Linus Torvalds to chat about the Linux kernel in the early 90's when he was at the University of Helsinki.
"The future is already here – it is just every unevenly distributed"
I think AI will… shape the future of our society more than anything mankind created before it.
Some advice I can share with other entrepreneurs… "Stay hungry – stay foolish"