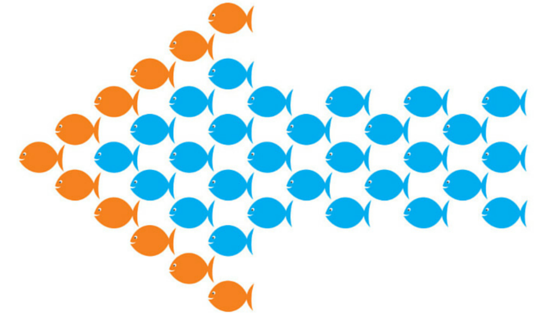 Today's guest post is from Marten Mickos.
The most unlikely teams may soar to the most amazing success. For that reason, it's not easy to define the ideal startup team. Here is what can be seen over and over again in successful teams:
Each member of a winning team puts the success of the enterprise above the success of themselves.
They have shared values and divergent opinions. They learn and adapt as a team.
Everyone is passionate about customers. Each member of the team is focused on making the company's customers successful.
The entire team loves strategy development. Everyone engages in discussions about vision, purpose, strategy and also short-term goals.
From the passion for customers (#3) and the passion for strategy (#4) comes the ability to develop the value proposition, the product and market fit and a useful business model – things a startup must get right in order to start scaling.
At least some but rarely all are strong leaders with an ability to hire, inspire and retain great talent.
Everyone and everything is action oriented. Stuff gets done. Everyone in the team knows that the five points above are worth nothing unless accompanied by execution. The execution is quick and precise.
When you are building a team, look for integrity, energy and intelligence, in that order. Those three characteristics are the foundation of success. Only people with high integrity will put the success of the enterprise above the success of themselves. Only people with high integrity can make teams with divergent opinions productive. Without energy things happen too slowly, and quality deteriorates. Worse, low energy is a predicament that negatively affects the surrounding team. Treat the word "intelligence" here in the broadest meaning: presence of useful skills combined with an ability to quickly learn more.
Within the scope of integrity, energy and intelligence, hire for strength. This means that you should look for people with the particular strengths that the team needs, and then make those strengths productive. You can always work around the weaknesses, and you must do so as everyone has weaknesses. Don't try to hire "well-rounded" people with few weaknesses, because then you will get few strengths. Look for strength. Look for that unique talent that will make a huge difference for your company, and be prepared to then manage around everything else. But although you will tolerate weaknesses, never tolerate deviation from the core values of the organization. A weakness in a particular skill is a tactical problem that can be solved. A weakness that shows up as a deviation from the organization's core values is not fixable. Do not hire people who do not subscribe to the values of the organization.
Be aware of the "non-vital positives". Most people have a set of strengths and accomplishments that look and are good, but are not vital for success. Having attended a top-rated university or worked for a famous company is such an example. Nothing wrong with that, but in itself it proves little. Being well spoken is another. It's a useful skill, but it's not among the top 10 requirements. Knowing the same people or being member of the same club is another example. Nothing wrong with it, but it is not a defining characteristic. You should just hire for the specific strengths that you know the company needs.
Finding the right mix of culture and values is difficult. On the one hand, there must be shared values in the team. On the other hand, diversity and divergence in opinions is absolutely vital for sustained success. Don't hire people who are like you or think like you. Hire people who are unlike you, but who share the few core values that you have stated as the cultural foundation of the company.
Hiring the people is just the first step in building a world-class team. After hiring, you start making the strength you hired productive. The best guidance on this can be found in Peter Drucker's book the Effective Executive, in the Making Strength Productive chapter:
"The effective executive makes strength productive. He knows that one cannot build on weakness. To achieve results, one has to use all the available strengths—the strengths of associates, the strengths of the superior, and one's own strengths. These strengths are the true opportunities. To make strength productive is the unique purpose of organization. It cannot, of course, overcome the weaknesses with which each of us is abundantly endowed. But it can make them irrelevant. Its task is to use the strength of each man as a building block for joint performance."
As you build the ideal team, don't lose sight of building yourself. No one is ready – ever. We have to keep managing and developing ourselves. We may think that we cause change in the organization by changing others. It is true that we can influence others. But the real source of change is within ourselves. If you want to make a change in the team or the broader organization, start with yourself. Set the bar high for your own development and improvement. But also be patient with the outcome and remember to appreciate and support yourself as you evolve. Focus on your own strengths, and ask your team to help you manage around your weaknesses.
An ideal team is a rare occurrence. When it happens, it is the crowning of all your efforts as the leader. When a good team becomes a great team, the whole company rises to a new level of performance. Everyone knows that you can accomplish anything together. It is a feeling of enormity.
This post was originally published at School of Herring.
---
Marten Mickos | @martenmickos
Marten Mickos is a Silicon Valley entrepreneur and business leader. The knowledge he shares has been gathered first-hand through his various experiences of utter failure and smashing success. As the CEO of MySQL he pioneered open source software and built a company worth a billion dollars. At Eucalyptus he recovered strongly from near-fatal hardship. As SVP at Sun Microsystems and Hewlett-Packard he has experienced leadership at the largest scale. He is a Silicon Valley Finn passionate about leadership and disruptive businesses in an open and distributed world.
https://bootstraplabs.com/wp-content/uploads/sites/4/2015/10/The-ideal-team-look-for-integrity-energy-and-intelligence-marten-mickos.png
315
560
guestcontributor
https://bootstraplabs.com/wp-content/uploads/sites/4/2018/08/Bootstrap-website_white_logo.png
guestcontributor
2015-10-30 16:10:06
2017-01-19 11:27:52
The ideal team: look for integrity, energy and intelligence