BootstrapLabs has built a community of more than 40,000 people from over 60 countries who care about applying Artificial Intelligence to solve the hardest problems of our society.
The BootstrapLabs Applied AI Insiders Series brings together the brightest and most experienced experts in the field of AI for an immersive time of learning, discussion, and connection.
We have released the video from our last event on BootstrapWorks to share the knowledge around the diverse topics covered by our experts on stage.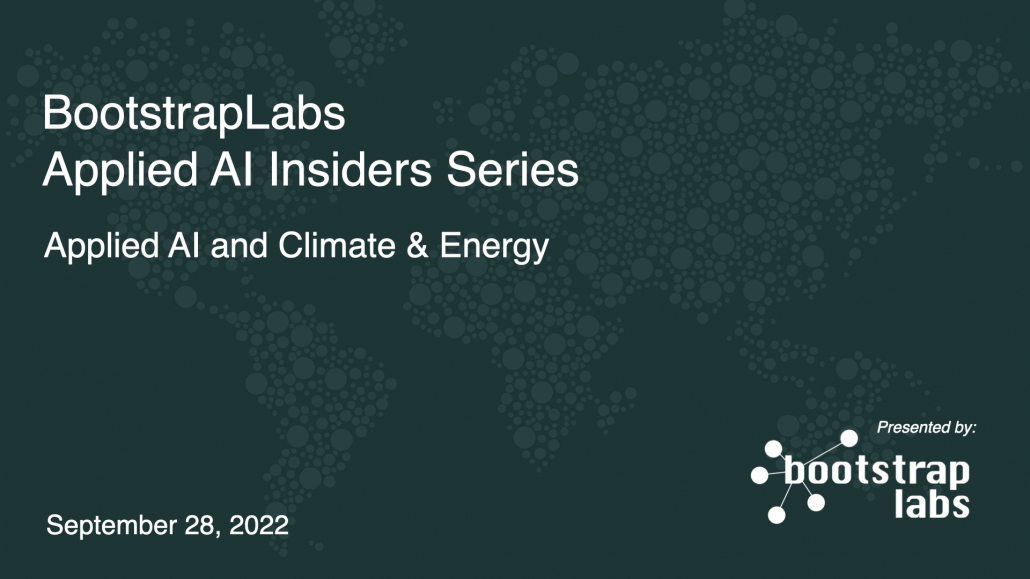 Michelle Moore, CEO of Groundswell – a non-profit that is focused on building community power, and Fabio Ficano, Head of BootstrapLabs Venture Studio for Climate & Energy, discussed how Artificial Intelligence could be applied to address some of the major challenges and opportunities facing us as we transition to clean energy infrastructure, decarbonization, and a circular economy for a more sustainable future.
There has never been more awareness, anticipation or support for innovation and technology to drive a cleaner, more sustainable future. Venture capitalists alone have invested over $53Bn last year in Climate & Energy technologies, making it one of the fastest growing segments of the market. This is 2.5x more than pre-pandemic levels, and 23x more than a decade ago.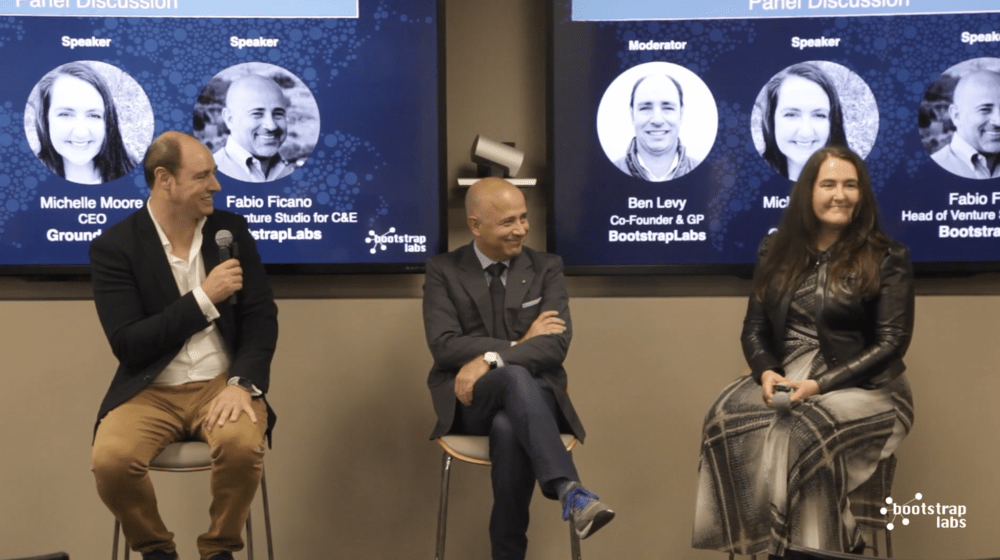 The US' decision to rejoin the Paris Agreement, followed by COP26, the highest profile meeting of its kind in history, combined with massive public awareness and pressure for countries and companies to make firm and ambitious commitments has raised the stakes for Climate Tech, aka CleanTech, like never before. Especially with the recent passages of the Chips & Science Act and the Inflation Reduction Act, federal funding is rapidly increasing in this area with multiple new eligible programs from the NSF, NIST, DOD, DOE, and others.
BootstrapLabs was among the first to track how AI would impact the Climate & Energy sectors, but sometimes innovation is not coming fast enough. So, in addition to allocating capital from our new Applied AI Fund III into startups tackling these problems, we have decided to launch our own venture studio to form new companies addressing untapped opportunities in the Climate & Energy space.
Host: Nicolai Wadstrom, CEO, Founder, and General Partner, BootstrapLabs.
Moderator: Ben Levy, Co-Founder & General Partner, BootstrapLabs.
Panelists: Michelle Moore, CEO of Groundswell; Fabio Ficano, Head of BootstrapLabs Venture Studio for Climate & Energy.
https://bootstraplabs.com/wp-content/uploads/sites/4/2022/10/20220928-Insiders-Series-AAI-and-CE-Final.001.png
1080
1920
BootstrapLabs
https://bootstraplabs.com/wp-content/uploads/sites/4/2018/08/Bootstrap-website_white_logo.png
BootstrapLabs
2022-10-19 09:27:14
2022-10-19 09:30:00
Flashback to our Latest BootstrapLabs Applied AI Insiders Series | Applied AI and Climate & Energy