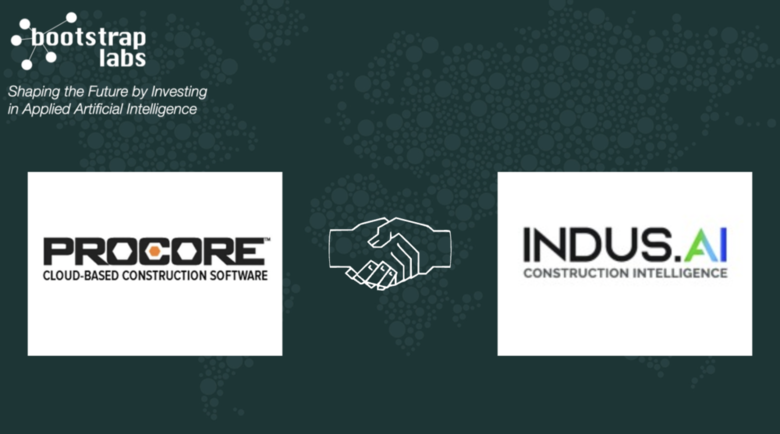 BootstrapLabs is pleased to share that Procore Technologies, Inc. (NYSE: PCOR) acquired our portfolio company INDUS.AI on May 6, 2021.
Unlike the design, planning, and virtualization phases of the construction industry, the actual construction phase, where 90% of the time and money is spent, has seen very little improvement with the advances of computing power and software, until now.
INDUS.AI uses machine vision technology to turn real world events into measurable insights, and helps developers and contractors reduce the $10 trillion dollars being wasted each year due to inefficiencies and delays. The company is growing fast and already covers 100 million square feet across 32 construction sites.
All parties involved, including the cities and governing agencies, benefit from the increased transparency, safety and visibility provided by the Indus.ai software platform, offering an opportunity for the company's technology to become a new standard for the construction industry.
Indus.ai has been a BootstrapLabs portfolio company since 2017.
"Our customers depend on the Procore platform as their system of record. With our investments in analytics and AI, we're becoming their system of intelligence and helping our customers unlock the value of their project data through powerful insights that enable better, data-driven decisions."
– Tooey Courtemanche, Procore founder and CEO
"Since 2017, INDUS.AI has been using computer vision and AI to improve the lives of construction professionals, freeing them up to focus on the most important parts of their projects. The Procore platform contains immense amounts of visual data, and we're looking forward to transforming it into actionable construction knowledge together,"
– Matt Man, Co-Founder and CEO of INDUS.AI
You can read the full press release below:
CARPINTERIA, Calif., May 6, 2021 – Procore Technologies, Inc., a leading provider of construction management software, today announced it has acquired INDUS.AI, makers of an artificial intelligence-powered analytics platform for the construction industry. This acquisition adds computer vision capabilities to the Procore platform, helping owners, general contractors, and specialty contractors realize greater efficiencies, safety, and profitability. Terms of the transaction are not being disclosed. Read More.
https://bootstraplabs.com/wp-content/uploads/sites/4/2021/05/imageedit_22_5522604135.png
434
780
BootstrapLabs
https://bootstraplabs.com/wp-content/uploads/sites/4/2018/08/Bootstrap-website_white_logo.png
BootstrapLabs
2021-05-12 09:59:28
2021-05-12 13:51:25
Congratulations to Matt Man and Navin Kaminoulu - INDUS.AI acquired by Procore Technologies, Inc., a leading provider of construction management software.