BootstrapLabs has built a community of more than 40,000 people from over 60 countries who care about applying Artificial Intelligence to solve the hardest problems of our society.
The BootstrapLabs Applied AI Insiders Series brings together the brightest and most experienced experts in the field of AI for an immersive time of learning, discussion, and connection.
We have released the video from our last event on BootstrapWorks to share the knowledge around the diverse topics covered by our experts on stage.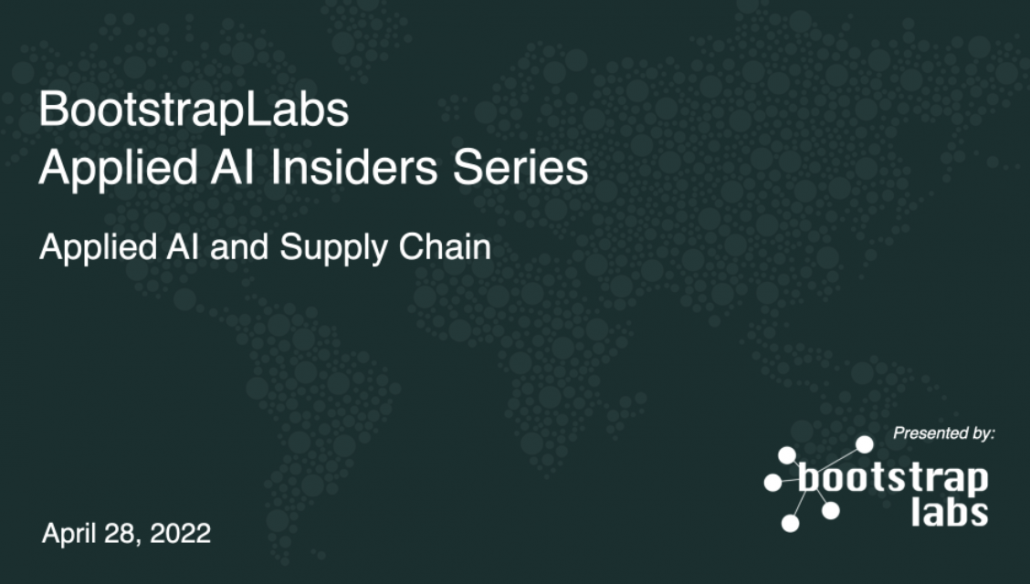 Karen Johnson, Director Supply Chain at Hayden.ai, and Channa Ranatunga, Co-Founder & CEO at Rabot, talk about how Artificial Intelligence is helping businesses in the Supply Chain and Logistics sector face some of their vulnerabilities, increase workers' performance, and ultimately contribute to the recovery of the global economy.
The Supply Chain and Logistics sector is an enormous market that accounts for nearly $10 Trillion globally, or 10% of the global GDP. Last year, venture capital investments in the supply chain sector reached an all time high of $11.3B and 2022 shows no sign of slowing down as the next generation of supply chain technology and infrastructure is being re-invented.
The lack of visibility and historically slow adoption of automation in the sector created dramatic delays across all industries, which were only magnified by government lockdowns and labor shortages during the pandemic.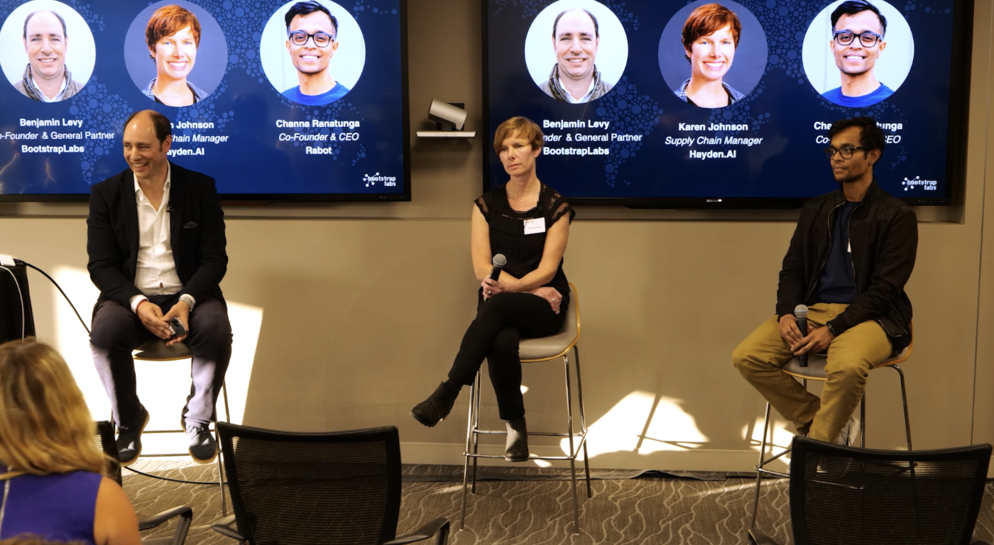 Moderator: Ben Levy, Co-Founder & General Partner, BootstrapLabs.
Panelists: Karen Johnson, Director Supply Chain, Hayden.ai; Channa Ranatunga, Co-Founder & CEO, Rabot.
https://bootstraplabs.com/wp-content/uploads/sites/4/2022/06/Screen-Shot-2022-06-02-at-3.22.10-PM.png
640
1128
BootstrapLabs
https://bootstraplabs.com/wp-content/uploads/sites/4/2018/08/Bootstrap-website_white_logo.png
BootstrapLabs
2022-06-08 11:11:35
2022-06-08 11:11:36
Flashback to our Last BootstrapLabs Applied AI Insiders Series | Applied AI & Supply Chain