The BootstrapLabs Applied Artificial Intelligence Conference 2019 #AAI19 brought together the brightest and most experienced experts in the field of AI for an immersive day of learning, discussion, and connection.
On BootstrapWorks we have released the videos from this past conference to relive the moments and spread the knowledge around the diverse topics covered by our experts on stage. 
BootstrapLabs has built a community of more than 40,000 people from over 60 countries who care about applying Artificial Intelligence to solve the hardest problems of our society.
Get access to practical wisdom on Applied AI methodologies and take advantage of AI's powerful potential, sign up here to receive the videos directly into your inbox.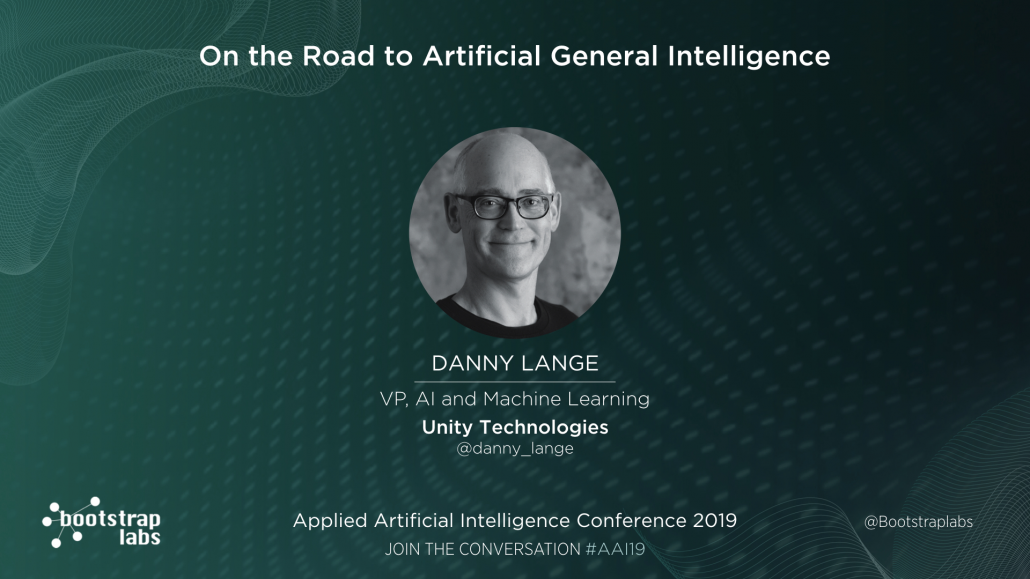 Danny Lange, VP of AI and Machine Learning at Unity Technologies, brings his vast expertise in AI to illuminate the path technology is on and where it is headed. Danny discusses how the AI community is working to improve algorithms, the role of intelligence in biological evolution and learning, and the relationship between intelligence and the senses. Danny goes on to explain why game engines with a spatial (3D) environment in conjunction with a physics engine (gravity, inertia, and collision) are the perfect virtual biodomes for AI's evolution, as they are fast, scalable, controlled, and self-sufficient ecosystems that closely replicate the natural environment. In conclusion, he shares new developments in reinforcement learning and the positive effect they will have on a variety of industries. Watch the video below to gain first-hand insights.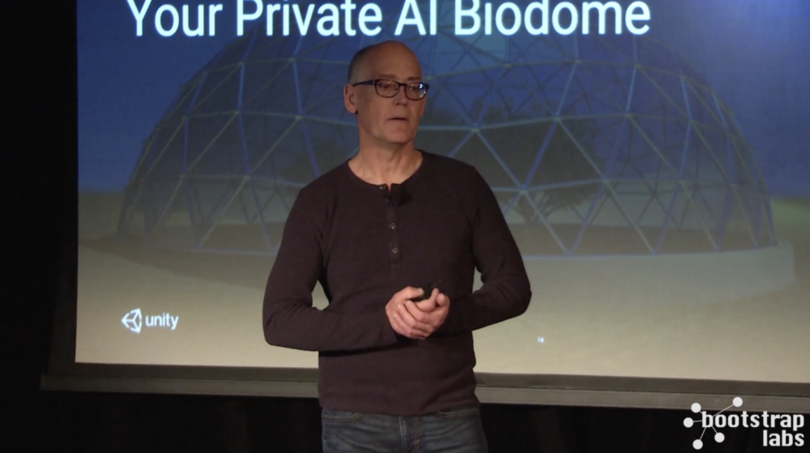 Speaker: Danny Lange, VP of AI & ML, Unity Technologies
Some of the key takeaways from the session are:
Intelligence in biological systems provides the models for AGI.
Game engines are virtual biodomes that are used by researchers to play with different aspects of intelligence because they replicate parts of nature
Nature's learning method is reinforcement (loop: observe, action, reward). This is why reward signals are used to teach Machine Learning agents.
Currently ML-agents are trained with more and more biological models, e.g. creating an algorithm for curiosity to accelerate the learning process.
The long-term goal is to get from the biological to the cultural evolution of the homo sapiens: The human brain was stable for the last 30,000 years, but things like emergence, language, collaboration and anticipation changed. When ML agents can learn methods themselves and from each other, this will create powerful Artificial General Intelligence.
About Danny Lange:
Dr. Danny Lange is VP of AI and ML at Unity Technologies. As the former Head of ML at Uber, he led an effort to build the world's most versatile ML platform to support Uber's rapid growth. Previously, Danny was the General Manager of Amazon ML, an AWS product that offers ML as a Cloud Service. Prior to Amazon, Danny was Principal Development Manager at Microsoft, where he was leading a product team focused on large-scale ML for Big Data. Danny started his career as a Computer Scientist at IBM Research and has a Ph.D. in Computer Science from the Technical University of Denmark.
https://bootstraplabs.com/wp-content/uploads/sites/4/2019/06/AAI_CONFERENCE_Presentation_FINAL_4-12.007.png
1080
1920
BootstrapLabs
https://bootstraplabs.com/wp-content/uploads/sites/4/2018/08/Bootstrap-website_white_logo.png
BootstrapLabs
2021-06-30 11:06:14
2021-06-30 11:06:15
Flashback: BootstrapLabs Applied AI Conference - On the Road to Artificial General Intelligence