The BootstrapLabs Applied Artificial Intelligence Conference 2019 #AAI19 brought together the brightest and most experienced experts in the field of AI for an immersive day of learning, discussion, and connection.
On BootstrapWorks we have released the videos from this past conference to relive the moments and spread the knowledge around the diverse topics covered by our experts on stage.
BootstrapLabs has built a community of more than 40,000 people from over 60 countries who care about applying Artificial Intelligence to solve the hardest problems of our society.
Get access to practical wisdom on Applied AI methodologies and take advantage of AI's powerful potential, sign up here to receive the videos directly into your inbox.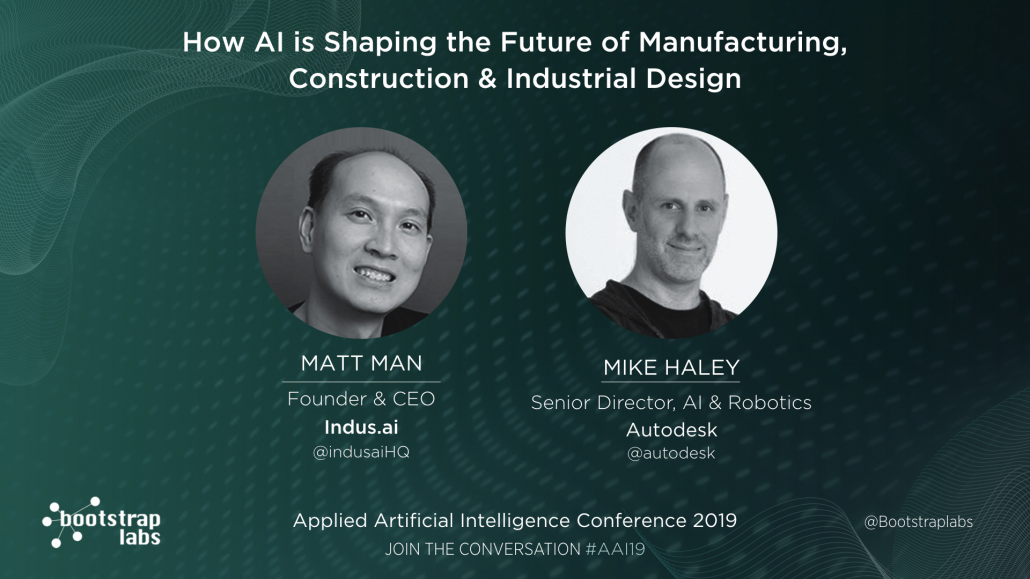 Construction, manufacturing, and industrial design projects are often far too complex to be effectively managed by people. It is in this capacity that AI is uniquely suited to help. This keynote and fireside chat brings together Matt Man, Co-Founder and CEO of Indus.ai, and Mike Haley, Senior Director of AI and Robotics at Autodesk. They will discuss how to leverage AI's capacity for synthesizing real-time data in support of managing, predicting, and optimizing for safety, quality, productivity, and efficiency within the construction and manufacturing industries.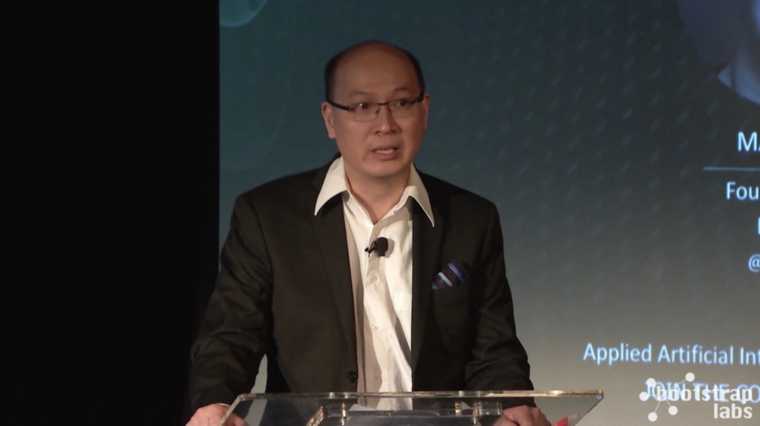 Presenter: Matt Man, Founder & CEO, indus.ai
Panelist: Mike Haley, Senior Director of AI & Robotics, Autodesk
Some of the key takeaways from the session are:
Choosing the right problem to solve with AI is as important as the problem.
Manufacturing ($31T), real estate & construction ($25T) and industrial (mining, agriculture, utilities etc.) ($15) are trillion dollar markets for next generation services. Opportunities for AI include better planning and scheduling, safer environments, higher productivity, less waste and more agility and resilience.
Try to look at a problem with a limited amount of failure in the system still provides high value (e.g. 97% of accuracy). Automate existing processes – then take a look where there are new capabilities to do things differently.
Monitoring construction sites nowadays is still mostly done via pen and paper and a few people on site. This is a reason why 90% of construction projects over-budget by 80% which represents $10T of waste.
Indus.ai created a tool for the smart construction site, where computer vision and ML/AI deliver actionable insights on progress tracking, worker metrics, truck/materials arrivals and overall site production analytics. This provides 10x of the normal visibility, and helps avoiding mistakes early, checking progress and giving insight on how to build a much better plan.
Traditionally manufacturers and designers were separated from each other, but with large amounts of data and AI one can incorporate the process how something is built and used as well as the used materials and supply chains into the design process to create an optimal design that flows right into the process of manufacturing and construction.
Generative design explores a design with thousands of permutations e.g. on the different forces that impact a seatbelt bracket. This way, a car company designed a new bracket that uses 30% less materials and is 40% lighter.
Autodesk's BrickBot project consists of an adaptive robot that learns how to build Lego from a physics and visual simulator that simulates what the camera and torque sensor on the arm will feel. This way it can go through a million iterations in a few hours so when it actually starts building, it already knows what to do.
Future outlook:

Imagine if construction sites had three adaptable machines instead of hundreds of specialists – it would be much more flexible, safe and efficient.
Today, most AI is very limited on an area of expertise – there is no AI that is applied at the systems level because it is quite complex with high levels of freedom. The only way to be efficient is to understand the system – evolving AI to gain to that level of understanding is a vision with tremendous reward.
About Matt Man:
Matt Man is the founder and CEO of indus.ai, a construction intelligence company. Before indus.ai, Matt co-founded a mobile technology company GreenOwl Mobile and deployed 40+ smart city products in over 25 cities, worldwide. GreenOwl Mobile was acquired by one of the largest architecture and design technology firms in the world, IBI Group. Matt has specialized in deploying technology to Enterprise and Industrial markets for 20 years and has developed a deep understanding of the challenges operating in the industrial environments. His experience with AI was first developed at the University of Toronto, where he pioneered his first neural network to translate sign language to spoken words 25 years ago.
About Mike Haley:
Mike leads the Machine Intelligence group at Autodesk Research where they identify, evaluate, and develop disruptive technologies that improve the practice of imagining, designing, and creating a better world. His team combines research, development, and user experience in coupled iterative cycles to develop new products and foundational technology. For the last several years Mike's team has been focused on bringing geometric shape analysis and large scale machine learning techniques to 3D design information with the intent to make software a true partner in the design process.
Formerly, Mike led the move of Autodesk products from the desktop to the cloud by driving the adoption of scalable distributed compute and data technology. Prior to joining Autodesk, Mike performed research and product development in the fields of volumetric graphics, distributed multimedia, computer vision, and embedded systems. He is drawn to areas where he can combine his 25 years of experience in computer graphics, distributed systems, and mathematical analysis. Mike holds an MS in computer science from the University of Cape Town, South Africa.
https://bootstraplabs.com/wp-content/uploads/sites/4/2019/06/AAI_CONFERENCE_Presentation_FINAL_4-12.013.png
1080
1920
BootstrapLabs
https://bootstraplabs.com/wp-content/uploads/sites/4/2018/08/Bootstrap-website_white_logo.png
BootstrapLabs
2021-04-22 09:29:22
2021-05-06 09:41:59
Flashback: BootstrapLabs Applied AI Conference - How AI is Shaping the Future of Manufacturing, Construction & Industrial Design