The BootstrapLabs Applied Artificial Intelligence Conference 2019 #AAI19 brought together the brightest and most experienced experts in the field of AI for an immersive day of learning, discussion, and connection.
On our BootstrapWorks portal we have released the videos from this past conference to relive the moments and spread the knowledge around the diverse topics covered by our experts on stage.
BootstrapLabs has built a community of more than 40,000 people from over 60 countries who care about applying Artificial Intelligence to solve the hardest problems of our society.
Get access to practical wisdom on Applied AI methodologies and take advantage of AI's powerful potential, sign up here to receive the videos directly into your inbox.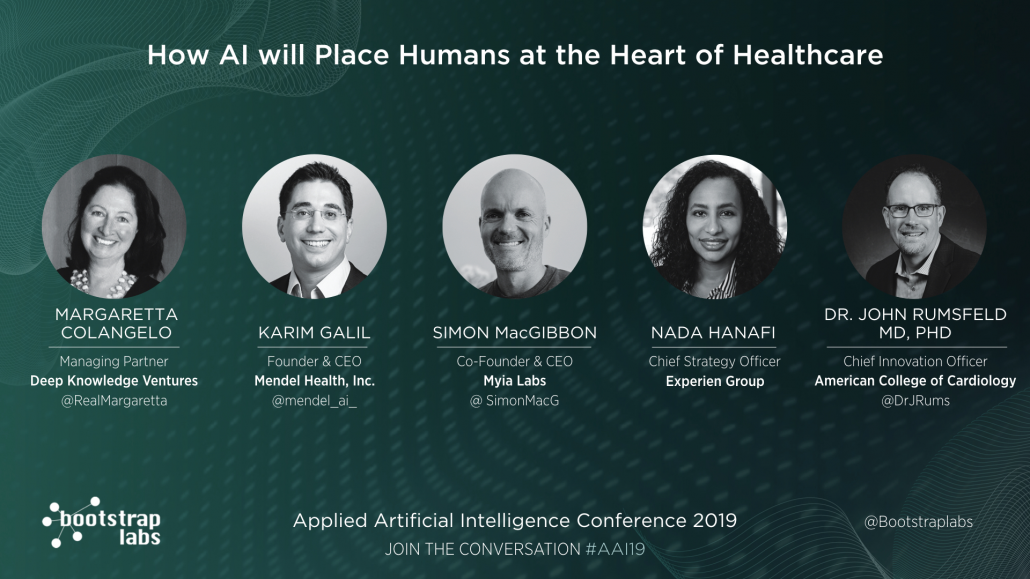 The application of AI in healthcare is an exciting and complex area. AI promises to streamline trial-patient enrollments and support compliance, monitor patients remotely, discover biomarkers, and deliver better, faster, and cheaper diagnoses.
Moderator Margaretta Colangelo, Managing Partner at Deep Knowledge Ventures, brings together panelists:
Karim Galil, Founder and CEO of Mendel Health;
Simon MacGibbon, CEO and Co-Founder of Myia Labs;
Nada Hanafi, Chief Strategy Officer of Experien Group;
Dr. John Rumsfeld, CIO at the American College of Cardiology and Professor of Medicine at the University of Colorado.
The conversation focuses on how AI can fundamentally change the healthcare system: moving from episodic action plans to constant monitoring, from ICUs in hospitals to Intensive Home Care Units (IHCUs) deployed in patients' homes, from the ability to run virtual drug trials to the possibility for trials of one. Watch the video for a conversation on the most exciting and imminent areas where AI will drive positive-impact in the healthcare space.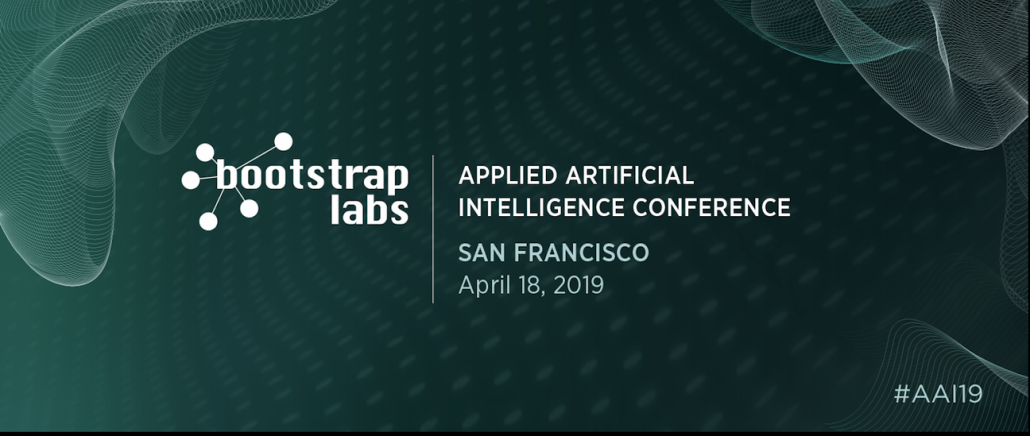 Some of the key takeaways from the session are:
The university of Hawaii Cancer center is analyzing 5 million mammograms from women on 5 continents with the help of AI to identify the role of ethnicity in breast cancer.
By 2030 half of the US population will have a chronic condition. 50-60 million Americans will even have 5 or more chronic conditions.
AI has not yet disrupted healthcare delivery since electronic health records are often messy and incomplete and do not represent high quality, clean digital data. AI technology however can consider all parameters, including those that would not have been considered by a researcher or doctor. This way predictions can be made and mistakes can be avoided.
The earliest opportunities for AI in healthcare are:

Interpretations and recommendations from pre-reading images from CT, ultrasound and MRI scans.
Risk prediction from wearable and non-wearable biosensor data.
Helping clinicians prioritize steps and areas of their treatment.

Growing the data set is the highest barrier for healthcare AI start-ups but growing a community can help attract patients for product trials.
The FDA cleared a few dozen AI applications in healthcare so far which are low to moderate risk, but they need to adapt their regulatory efforts: The cycles of change through software are faster and so far only locked algorithms have been cleared which do not allow continuous learning.
In April 2018 an AI tool was been introduced that diagnoses diabetic retinopathy in Type I and II diabetes and delivers a diagnosis within 5 minutes thereby removing the clinician.
Apple's health analytic algorithm has been cleared by the FDA because it is considered to be working on any platform while the connected sensors (on the Apple watch) have not been approved but are considered as an off-the-shelf consumer device.
MyiaHealth focuses on three primary use cases:

Predicting negative events like imminent hospitalizations.
Personalization of the care plan.
Automation of clinical groundwork.

Myia Health works with passive sensor wearable partners, because data is only reliable if it represents a holistic view. If a user wears a sensor only 30% of the time, it is of no value for analysis in healthcare.
Mendel AI improves clinical trials with vision, inferencing and NLP research to accelerate the trial process. The platform automates processes and enables trial teams to find more eligible patients.
The Mendel Brain organizes all data in the records in a searchable, machine-understandable format that can bridge the missing gaps in patient data.
One of the main challenges to approaching doctors is the labeling of AI: Doctors can become defensive because they do not understand the technical terms around AI, but if they can simply see it as a tool they are open to improve processes. Cardiologists are seen as early adopters because they are generally computationally strong, tech conscious and understand statistics.
About Margaretta Colangelo:
Margaretta Colangelo is Managing Partner at Deep Knowledge Ventures, a Hong Kong based investment fund focused on DeepTech. Investment sectors include AI, Precision Medicine, Longevity, and Neurotech. Margaretta has been President of U1 Technologies since 2007, providing the communications infrastructure for stock trading platforms used by some of the world's top multinational investment banks. U1's software is used at the core of large-scale stock trading applications. Margaretta serves on several advisory boards including The AI Precision Health Institute at the University of Hawaii Cancer Center, Robots Go Mental, and Woolf University – The World's First Blockchain University.
About Karim Galil:
Karim Galil, CEO and Founder of Mendel AI, is advancing clinical oncology research by applying AI-powered EMR data solutions to current healthcare challenges. Karim is an MD with an entrepreneurial spirit. His first company Kryptonworx led health tech in the MENA region with customers like Pfizer and the Ministry of Health in UAE. Karim has also aided companies, such as Sirona and Straumann, in the field of medical image processing.
About Simon MacGibbon:
Simon MacGibbon is the CEO and co-founder of Myia Health, an intelligent remote monitoring platform. Simon has over 20 years experience using technology to enable transformational industry change in both consumer and complex B2B settings. Prior to co-founding Myia Health, Simon co-founded the Boston Consulting Group's Digital Ventures business, where he led the creation of numerous data-driven software platforms while growing the global team to over 500 talented strategists, designers, engineers and data scientists. Formerly, Simon was an Associate Partner at McKinsey & Co. and a leader in the systems integration area at IBM Global Services.
About Nada Hanafi:
Nada Hanafi joined Experien Group in 2017 after working 12 years at FDA's CDRH as a Senior Science Health Advisor, serving as an expert consultant and senior advisor in the Center Director's office. Nada combines her deep institutional knowledge with innovative approaches to help companies successfully communicate product information to FDA throughout the product life cycle. At Experien Group, Nada leverages her years of reviewer experience and broad FDA exposure, helping medical device companies generate regulatory/clinical roadmaps for success. Building upon her strong engineering background, she helps organizations devise and position product performance testing and/or clinical studies to achieve major milestones.
About John Rumsfeld:
Dr. John Rumsfeld is the Chief Innovation Officer for the American College of Cardiology (ACC) and Professor of Medicine at the University of Colorado School of Medicine. Previously, Dr. Rumsfeld served as National Director for Cardiology for the U.S. Department of Veterans Affairs (VA), and as Chief Science Officer for the ACC's National Cardiovascular Data Registry (NCDR) programs. Dr. Rumsfeld has more than 330 scientific publications and is past-Chair of the American Heart Association's Quality of Care and Outcomes Research (QCOR) Scientific Council.
https://bootstraplabs.com/wp-content/uploads/sites/4/2018/06/private_public_partnership_video.001.jpeg
1080
1920
BootstrapLabs
https://bootstraplabs.com/wp-content/uploads/sites/4/2018/08/Bootstrap-website_white_logo.png
BootstrapLabs
2021-01-27 11:24:34
2021-03-04 11:53:55
Flashback: BootstrapLabs Applied AI Conference - How AI will place Humans at the Heart of Healthcare