The BootstrapLabs Applied Artificial Intelligence Conference 2019 #AAI19 brought together the brightest and most experienced experts in the field of AI for an immersive day of learning, discussion, and connection.
On BootstrapWorks we have released the videos from this past conference to relive the moments and spread the knowledge around the diverse topics covered by our experts on stage. 
BootstrapLabs has built a community of more than 40,000 people from over 60 countries who care about applying Artificial Intelligence to solve the hardest problems of our society.
Get access to practical wisdom on Applied AI methodologies and take advantage of AI's powerful potential, sign up here to receive the videos directly into your inbox.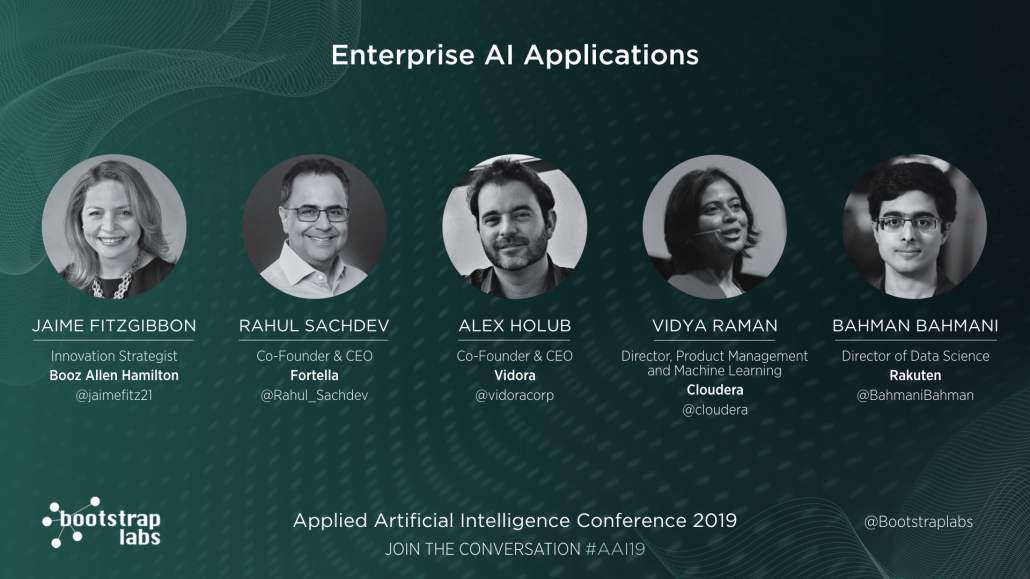 Companies are under tremendous pressure to adopt AI technology across their organizations in order to stay competitive, with the majority of companies needing to re-invent their core products and services using proprietary AI technology instead of off-the-shelf SaaS solutions. Moderator Jaime Fitzgibbon, Innovation Strategist at Booz Allen Hamilton, leads a conversation with panelists Rahul Sachdev, Co-Founder and CEO of Fortella; Alex Holub, CEO of Vidora; Vidya Raman, Director of Product Management and ML at Cloudera; and Bahman Bahmani, Director of Data Science at Rakuten, about best practices and design principles for Enterprise AI. Panelists address how to make AI productivity gains accessible to as many people as possible across an organization, how to increase adoption of AI within an organization, and how to innovate faster by making the development process of AI for enterprise more inclusive of non-data scientists.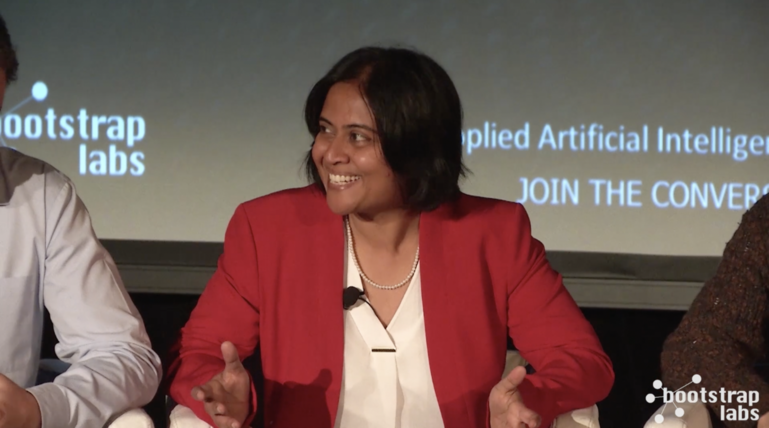 Moderator: Jaime Fitzgibbon, Innovation Strategist, Booz Allen Hamilton
Panelists: Rahul Sachdev, Co-Founder & CEO, Fortella; Alex Holub, CEO, Vidora; Vidya Raman, Director of Product Management & ML, Cloudera; Bahman Bahmani, Director of Data Science, Rakuten
Some of the key takeaways from the session are:
AI councils in companies have three main mandates:

Ensure a common understanding about AI and ML within the organization.
Create a tabular layout where investments in ML are being made and which represent the highest ROI.
Sharing case studies between business units and organizations.

Three main areas where value can be made with the help of AI in enterprises:

Operational excellence
Product leadership
Customer intimacy

Implementing AI: Data is the foundation of AI – make sure you have the right clean data pipeline into a centralized location and start small and collaborate early to tailor the data collection to the AI tool.
Regulation is important to preserve privacy and the option to delete PII needs to be built in the data structure, while it is also a driver for more automation in the data analytics process.
Enabling the AI tool user to override predictions or decisions is key for critical applications to give quality control over the system.
Three sources of scale at Rakuten:

Automation in DevOps to forward the full CI/CD pipeline from development to deployment.
Outsource data wrangling to junior positions which creates a good career path and frees the schedule for the data scientist who can focus on doing their most productive work.
Building and managing a globally distributed team.

The mindset of building everything in-house gets in the way of broader adoption of AI because talent is scarce and automation tools like Vidora help to solve time-consuming processes like data wrangling and modeling, enabling data scientists to focus on the problem itself.
Venture capital investment increased from $4B in 2016 to $10B in 2018 which produced many tools that can be utilized rather than building everything in-house.
Open source will be a tremendous opportunity for companies to experiment before fully committing and machine learning enables people to do more while opening up time for creativity.
About Jaime Fitzgibbon:
Jaime Fitzgibbon is Senior Associate at technology strategy consultancy Booz Allen Hamilton. Over the past 3 years, she has been building an innovation office focused on tracking technology trends and emerging tech solutions for client's toughest mission challenges. She serves as a mentor to start-ups, has spoken and written articles on the core elements for building a viable innovation ecosystem, and developed the classroom of the future strategy for a local school. She serves on the board of the German School of San Francisco as well as other community organizations' advisory councils.
About Rahul Sachdev:
Rahul Sachdev is the co-founder and CEO of Fortella – an AI-based Revenue Driven Marketing software company. He is a technology executive with experience in marketing, CRM and social domains. Prior to Fortella, Rahul served as the CEO of Get Satisfaction, an online community platform for marketing and customer support. Earlier Rahul was the head of content sharing and workplace products at LinkedIn, and General Manager of the Communications, Media & Energy product at Siebel Systems. Rahul holds an MBA from the University of Chicago's Booth School of Business and a BSc with Honors in Electrical and Electronic Engineering from Loughborough University (UK).
About Alex Holub:
Alex Holub studied artificial intelligence throughout his academic career at Cornell University and during his Ph.D at Caltech. He has published over 15 academic papers and holds numerous patents in the areas of machine learning, computer vision, and artificial intelligence. Prior to co-founding Vidora, Alex was a technical and product management lead at Ooyala.
About Vidya Raman:
Together with different product teams, Vidya Raman has built and grown enterprise businesses as a product leader in several industry verticals ranging from Telecom, Healthcare, Energy and IoT. Most recently, she led product management for Cloudera's AI platform, where she was responsible for making AI at scale a reality for customers spanning industries such as autonomous driving, biotech, banking to governments. Prior experience includes eMeter (Sequoia-funded, acquired by Siemens), Silver Spring (Kleiner funded and IPO exit), Medtronic (healthcare). Currently she is an early-stage venture investor.
About Bahman Bahmani:
Bahman Bahmani is a Director of Data Science at Rakuten (the 7th largest internet company in the world), managing an AI organization with engineering and data science managers, data scientists, machine learning engineers, and data engineers, globally distributed across 3 continents and in charge of the end-to-end AI systems behind the Rakuten Intelligence suite of products. Bahman has built and managed engineering and data science teams across industry, academia, and the public sector in areas including digital advertising, consumer web, cybersecurity, and non-profit fundraising, where he has consistently delivered substantial business value. He has also designed and taught courses, led an interdisciplinary research lab, and advised several theses in the Computer Science department at Stanford University, where he also did his own PhD focused on large-scale algorithms and machine learning, topics on which he is a well-published author.
https://bootstraplabs.com/wp-content/uploads/sites/4/2019/06/AAI_CONFERENCE_Presentation_FINAL_4-12.015.png
1080
1920
BootstrapLabs
https://bootstraplabs.com/wp-content/uploads/sites/4/2018/08/Bootstrap-website_white_logo.png
BootstrapLabs
2021-03-25 09:43:06
2021-03-25 10:04:08
Flashback: BootstrapLabs Applied AI Conference - Enterprise AI Applications