GetAccept – Applied AI and Enterprise Productivity
Historically there has been a perception that if an employee was not in the office, they were not working. This year's pandemic has forced millions of companies across the globe to shut down their offices and ask their employees to work remotely. Yet, contrary to expectations, many organizations, large and small, have experienced a boost in productivity, primarily driven by the adoption of new software technologies.
Stocks from enterprise productivity software companies such as Zoom (ZM +487%), Docusign (DOCU +205%), Okta (OKTA +113%), and Slack Technologies (WORK +89%) have displayed impressive gains this year – and reflect a clear signal that economies and their businesses have not stopped working, but transformed into a more digital and decentralized enterprise model. The worldwide acceleration of this digital transformation is in turn creating an explosion of new data that creates exciting new opportunities for automation and artificial intelligence applications.
For the past five years, BootstrapLabs has been investing in AI applications that are accelerating Enterprise Productivity and defining the Future of Work. One of our portfolio companies – GetAccept – has been helping companies accelerate their sales throughout the pandemic, and recently raised a $20M Series B round led by Bessemer Venture Partners, with participation from existing investors such as BootstrapLabs, DN Capital and Y Combinator.
GetAccept helps small and medium-sized businesses, and their sales reps, close more deals remotely by enabling, prioritizing, and automating more personalized, engaging, and convenient asynchronous sales communication and contract execution.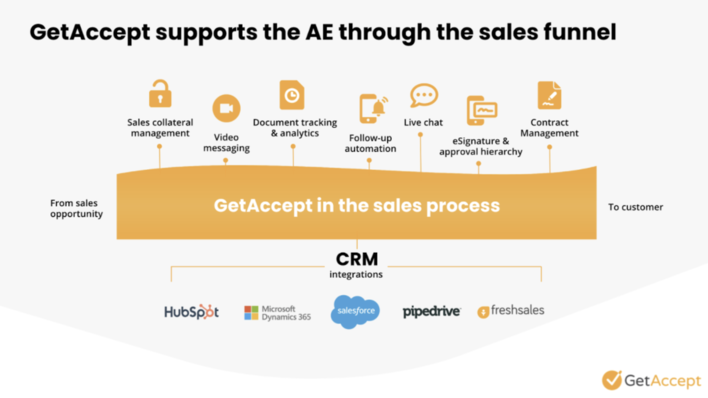 GetAccept has been a BootstrapLabs portfolio company since 2017.
Samir Smajic is co-founder and CEO at GetAccept. He has more than 10 years of experience in CRM solutions. He has prior experience working with co-founders at Lime Technologies AB. Samir received a Master of Science in Mechanical Engineering at Lund University.
Jonas Blanck is co-founder and CTO at GetAccept. Jonas prior served as CTO and worked for over 10 years in email marketing and has developed solutions for email designing, deliverability enhancement and advanced email marketing. Jonas received a Bachelors of Science in Computer Science at Lund Institute of Technology.
Carl Carell is co-founder and CSO at GetAccept. Carl co-founded Adsensus Denmark and helped the company to expand across Norwegian, Finnish, and Danish markets. He has over 10 years of experience in Sales & Marketing. Mr Carell received a Bachelors of Science in Business Administration concentration in Finance at Lund University.
Mathias Thulin is co-founder at GetAccept. Mathias founded Apsis ProspectEye, one of the most successful lead generation and marketing automation platforms in the Nordic countries. He has over 10 years of experience in Sales & Marketing. Mathias received a Master of Science in Engineering and Industrial Management at Lund University. He was awarded Entrepreneur of the year in Malmö 2020 – Tillväxt Malmö.
https://bootstraplabs.com/wp-content/uploads/sites/4/2021/03/GetAccept.jpeg
183
275
BootstrapLabs
https://bootstraplabs.com/wp-content/uploads/sites/4/2018/08/Bootstrap-website_white_logo.png
BootstrapLabs
2021-03-30 09:48:42
2021-03-30 09:48:44
Founder Stories - GetAccept