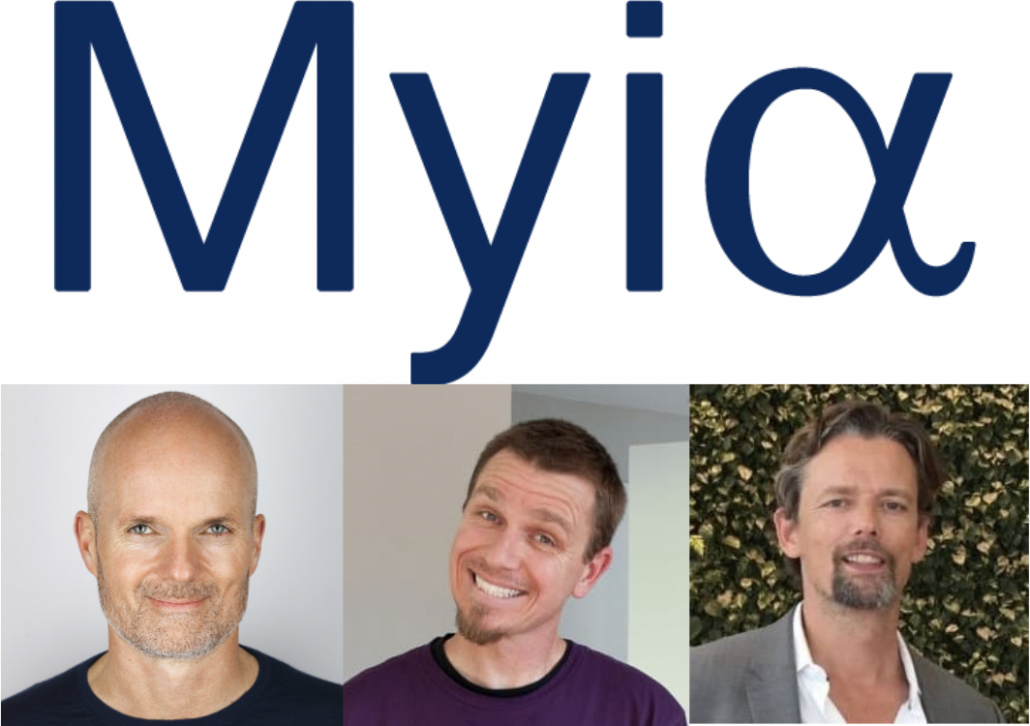 Applied AI and Healthcare: Myia Health developed an intelligent patient monitoring platform to better support patients with chronic conditions, a $38Bn industry. 
International Data Corporation (IDC) estimates that by 2020, over 2,300 exabytes (one billion gigabytes) of clinically-relevant data we will be generated, with the vast majority coming from non-clinical settings such as personal medical sensors. Thanks to its proprietary AI technology, Myia Health not only makes this data available to clinicians, but is also capable of providing key insights about the current and future health of patients, facilitating richer and personalized patient-clinician dialogue, increasing compliance, and allowing for better care-planning.
Myia Health's intelligent patient monitoring platform supports patients with chronic conditions such as heart failure, chronic obstructive pulmonary disease (COPD), diabetes, and hypertension, a $38 billion industry in 2019, that is expected to surge to $130 billion by 2025. Myia's partnership with Mercy Virtual is poised to revolutionize the industry and become a key standard of care in the upcoming "outcome based" healthcare system.
Myia uses AI technology to predict patient health status and augment the power of frontline clinicians with levels of patient insights that were previously inaccessible.
Myia Health has been a BootstrapLabs portfolio company since 2018.
Simon MacGibbon is co-founder and CEO at Myia Health. Simon has over 20 years of experience using technology to drive transformational industry change, in both consumer and complex B2B settings. Prior to co-founding Myia Health, Simon co-founded the Boston Consulting Group's Digital Ventures business, where he led teams responsible for imagining, building, and investing in data-driven technology platforms to help some of the world's most influential companies innovate with startup-like speed. Formerly, Simon was an Associate Partner at McKinsey & Co. and a leader in the systems integration area at IBM Global Services. He has a BSc from Otago University in New Zealand and a BA (Hons) in Applied and Industrial Psychology from the University of Canterbury.
Bryan Smith is co-founder and CTO at Myia Health. Bryan is a multidisciplinary executive leader applying advanced analytics, machine learning, and interactive data visualization methods to help organizations and individuals maximize the value of their data as an asset. He has proven ability to function as a key individual contributor as well as an executive leader, skilled at identifying the optimal balance between those functions as required by each unique role. Brian is an excellent communicator, able to convey complex ideas to client executives as well as speak the language of technical team members. He received a Bachelor's of Science in Neuroscience and Chemistry at University of Southern California, and a Ph.D. in Neuroscience at Caltech.
Sam Rawstorne is co-founder and COO at Myia Health. Sam has over 20 years of experience growing teams and launching companies. He has extensive experience in Recruiting, HR. EIR at BootstrapLabs and BCG Digital Ventures. He received a Bachelor of Arts Hons, at the University of the Arts London.
https://bootstraplabs.com/wp-content/uploads/sites/4/2021/03/Screen-Shot-2021-03-19-at-9.16.29-AM-1.png
750
1064
BootstrapLabs
https://bootstraplabs.com/wp-content/uploads/sites/4/2018/08/Bootstrap-website_white_logo.png
BootstrapLabs
2021-03-19 09:28:40
2021-03-19 13:09:22
Founder Stories - Myia Health