The BootstrapLabs Applied Artificial Intelligence Conference 2019 #AAI19 brought together the brightest and most experienced experts in the field of AI for an immersive day of learning, discussion, and connection.
On our BootstrapWorks portal we have released the videos from this past conference to relive the moments and spread the knowledge around the diverse topics covered by our experts on stage.
BootstrapLabs has built a community of more than 40,000 people from over 60 countries who care about applying Artificial Intelligence to solve the hardest problems of our society.
Get access to practical wisdom on Applied AI methodologies and take advantage of AI's powerful potential, sign up here to receive the videos directly into your inbox.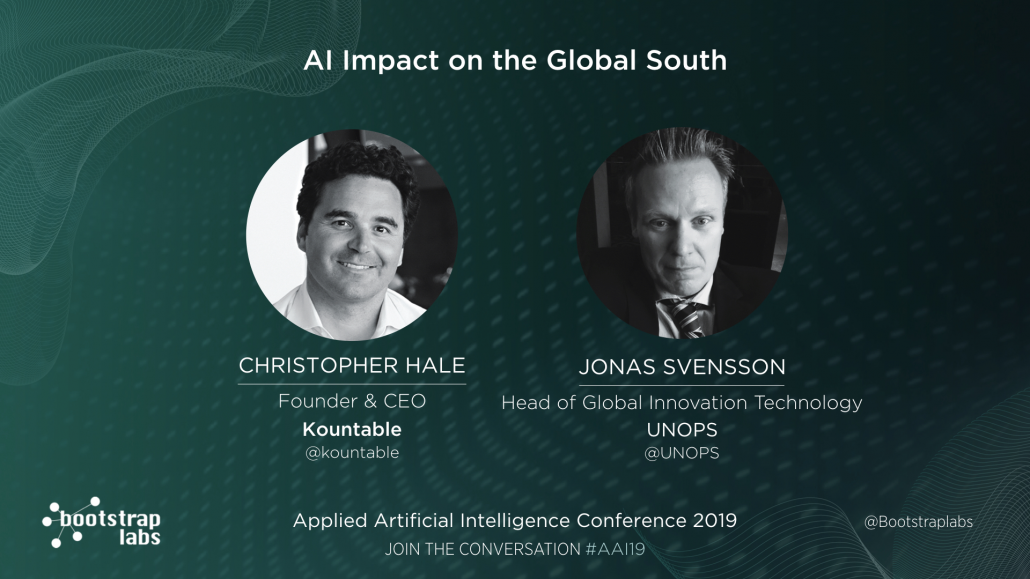 The Global South is home to some of the fastest growing economies on the planet despite being crippled by a general lack of traditional infrastructure, trade frictions, political and currency risks, and corruption. And yet, the benefits far outweigh the risks of bringing the next billion people into the Global Economy. In fact, massive investments are already being made in infrastructure, healthcare, IT, and transportation by governments, NGOs, and foundations alike. In this mini keynote and fireside chat, Chris Hale of Kountable and Jonas Svensson of UNOPS discuss how AI can empower entrepreneurs in the region by accelerating their growth, job creation, and taxable income recognition.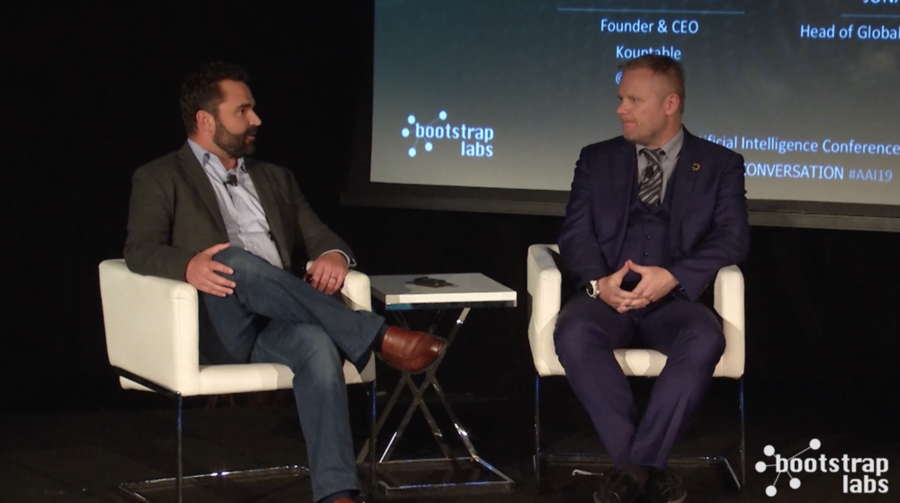 Presenter: Christopher Hale, Founder & CEO, Kountable
Panelist: Jonas Svensson, Head of Global Innovation and Technology, UNOPS
Some of the key takeaways from the session are:
The global south is a relatively new term that describes countries which are not high-income countries. They represent 5B+ people or 60% of the world population.
Africa's population will double by 2050 and by 2100, 80% of the world's population will live in Africa and Asia.
Entrepreneurs are engines of change in these emerging markets, but it is difficult to identify and analyze them and their behaviors.
Kountable built a tech platform that organizes entrepreneur behaviors as they access global markets with the help of NLP, currency forecasting, behavioral scoring & feedback loops to learn what a good trader looks like and to optimize and train against that behavior.
The UNOPS reach is $2B to invest globally, but to innovate inside such a large structure becomes difficult. Therefore, they invest in innovation procurement from the private sector who are able to generate profits. The EU innovation procurement policy (2018) focuses on outcome and lifetime cost instead of upfront cost and usage which facilitates innovation.
Today, there is a funding gap of $15T to reach the sustainable development goals for 2030, which represents tremendous business opportunities for the private sector. This allows co-development with the UN, where private companies are enabled to keep the IP for usage in other sectors.
We need to make technology available and understandable by facilitating education to bridge the social gaps around the world: The motivational driver is not shareholder profit, but global change by bringing critical infrastructure to the fastest-growing markets in the world. For example, AI is used to analyze infrastructure, food waste and to predict extreme weather patterns to facilitate support.
About Christopher Hale:
Chris Hale is founder and CEO of Kountable, Inc., an SF-based start-up that combines data science, social capital and proven financial instruments to provide highly scalable financing solutions to underserved entrepreneurs in developing countries. Kountable creates a low-friction, cloud-based bridge between investors and a massive opportunity to finance the most promising and well-networked entrepreneurs in emerging economies. Chris also doubled headcount and grew assets under management almost six-fold as the COO of Perigon Wealth Management, one of 2014's 50 fastest growing RIAs in the country, serving approximately 100 families and managing almost $1 billion in assets.
About Jonas Svensson:
Jonas Svensson is the Head of Global Innovation and Technology at UNOPS. The UNOPS Global Innovation and Technology program operates under the Social Impact Investing Initiative with the mission to facilitate innovation wherever it happens. Connecting with Global stakeholders who share the UN foundation values regarding sustainability and the understanding that Innovation happens everywhere UNOPS together with partners have created a toolkit providing Education, Incubation, Investment and Policy support.
Prior to the role with UNOPS Mr Svensson has worked within the startup industry for the past 20 years as founder, incubator manager, business consultant, investor, last as President for a Venture capital company headed out of Tokyo Japan. Mr Svensson holds a Master in Global Management from the University of Salford and is currently pursuing his PhD.
https://bootstraplabs.com/wp-content/uploads/sites/4/2019/07/161308701864395105.png
503
900
BootstrapLabs
https://bootstraplabs.com/wp-content/uploads/sites/4/2018/08/Bootstrap-website_white_logo.png
BootstrapLabs
2021-02-12 09:35:16
2021-03-04 11:53:40
Flashback: BootstrapLabs Applied AI Conference - AI Impact on the Global South