The BootstrapLabs Applied Artificial Intelligence Conference 2019 #AAI19 brought together the brightest and most experienced experts in the field of AI for an immersive day of learning, discussion, and connection.
On our BootstrapWorks portal we have released the videos from this past conference to relive the moments and spread the knowledge around the diverse topics covered by our experts on stage.
BootstrapLabs has built a community of more than 40,000 people from over 60 countries who care about applying Artificial Intelligence to solve the hardest problems of our society.
Get access to practical wisdom on Applied AI methodologies and take advantage of AI's powerful potential, sign up here to receive the videos directly into your inbox.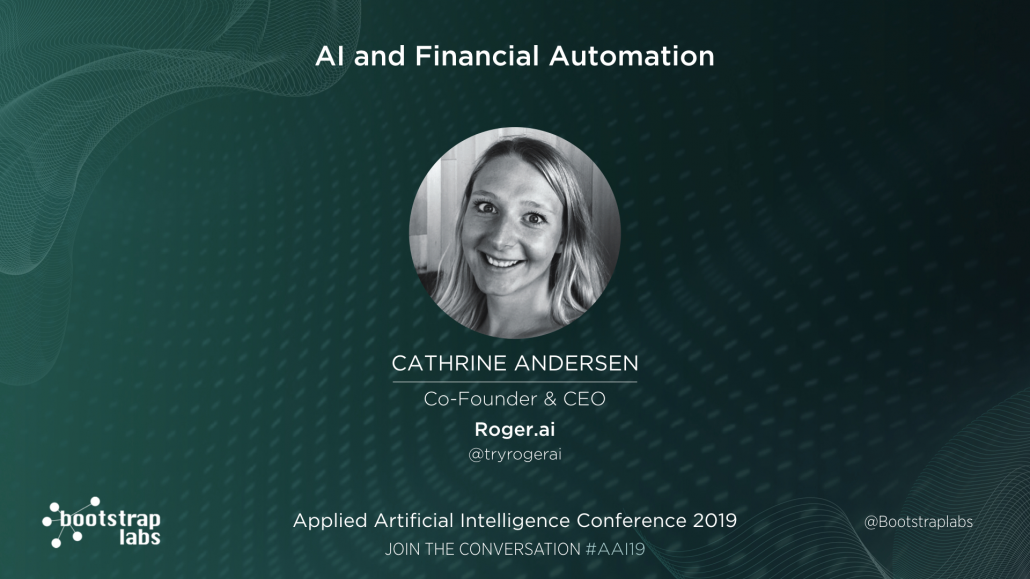 Bookkeeping, accounting, and auditing are undergoing rapid changes, driven in large part by the ability to digitally automate tasks previously performed manually by humans. Machine Learning and AI are driving a shift across the entire industry with the technology already being adopted by firms and individuals at a rapid pace and low price point, enabling a shift from Cloud Accounting to Augmented Accounting. Cathrine Andersen, Co-Founder of Roger.ai, discusses how in addition to making humans up to 20x faster in the bookkeeping and reconciliation process, machines can find patterns and put large data sets into perspective in a way no auditor would ever be able.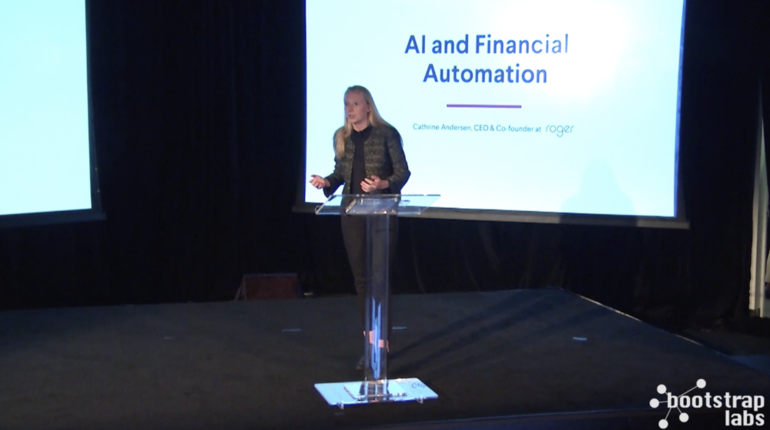 Speaker: Cathrine Andersen, Co-founder & CEO, Roger.ai
Some of the key takeaways from the session are:
Accountant and auditor jobs were predicted to be at high risk of being automated with the help of AI and since 2004, the number of FTEs in finance departments of large companies declined by 40%.
90% of accountants and bookkeepers agree that the future is rapidly approaching, but only 10% think of themselves as innovative and 8% think the industry is "future ready".
Areas of automation:

Day-to-day financial operations: Accounts receivable, Accounts Payable, Cash-flow management
Bookkeeping / Reconciliation
Compliance
Fraud detection / Prevention
Auditing

Product examples:

Roger.ai automates all the steps along the way by scanning documents and following determined flows within the platform. This gives the accountant the responsibility of supervision with integrated audit trails and fraud detection flags.
Pleo facilitates expense reporting.
Other companies include YayPay, Chata.ai and Mindbridge.

The accounting firms of the future will either include a few winners who create the next generation of AI/ML-driven accounting and auditing software OR existing companies will quickly adapt to automation tools in order to compete with major players and keep their clients.
In order to adapt to that change, re-skilling is essential to enable accountants and bookkeepers to focus on tasks like supervising the technology.
About Cathrine Andersen:
Cathrine Andersen is the co-founder and CEO of Roger.ai, an accounting automation product used by over 1,000 businesses and accounting firms worldwide. Starting with accounts payable and bill pay, Roger is moving the accounting industry from the cloud toward augmented accounting – one big step at the time. Originally from Denmark, Cathrine moved to the Bay Area in 2014 when her first company Assemblage was acquired by Cisco. She holds 2 US patents and was named Founder of the Year in her home country in 2018.
https://bootstraplabs.com/wp-content/uploads/sites/4/2021/02/Screen-Shot-2021-02-19-at-10.04.21-AM.png
788
1406
BootstrapLabs
https://bootstraplabs.com/wp-content/uploads/sites/4/2018/08/Bootstrap-website_white_logo.png
BootstrapLabs
2021-02-19 10:11:21
2021-03-04 11:53:21
Flashback: BootstrapLabs Applied AI Conference - AI and Financial Automation