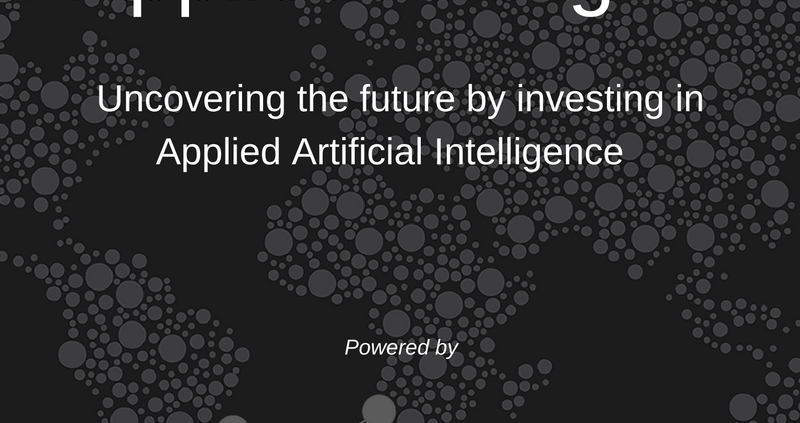 The latest Data, Insights, and Inspiration about Applied AI
Feel free to forward this email or share it with your network.
Announcing The Autonomous Corporation
Join us for an exciting evening with the leaders of the Autonomous Revolution.
With the AI market projected to grow over 20 fold in the next 10 years to $3Tn annually, we believe Applied Artificial Intelligence represents one of the major wealth creation opportunities of this century. Read more.
Speakers lineup:
Danny B. Lange, Head of Machine Learning at Uber
Ben Levy, Co-Founder at BootstrapLabs
Sabrina N. Atienza, Founder at Qurious.io
Alex Holub, Co-Founder at Vidora
Cathrine Andersen, Co-Founder at Roger.ai
The Autonomous Corporation is a can't miss opportunity for AI leaders and startup entrepreneurs. It will take place on November 15th from 5:45 pm to 8:30 pm in San Francisco.
We extended a limited number of early bird tickets to the Applied AI Digest subscribers.
Applied AI Digest
Barack Obama, neural nets, self-driving cars, and the future of the world
IT'S HARD TO think of a single technology that will shape our world more in the next 50 years than artificial intelligence. Read more.
Google's 'DeepMind' AI platform can now learn without human input
In a significant step forward for artificial intelligence, Alphabet's hybrid system — called a Differential Neural Computer (DNC) — uses the existing data storage.. read more.
Apple has hired a big brain in AI to make Siri less dumb
Apple has hired a Carnegie Mellon University professor to head up a team working on artificial intelligence as tech giants increasingly place big bets on machine learning as a key part of their future. Read more.
Why artificial intelligence will finally unlock IoT
Connected devices that leverage AI to help with real-time analytics are here today, and widespread adoption is on the rise. Read more.
Artificial intelligence is transforming ERP solutions
Without a doubt, artificial intelligence (AI) will have a profound impact on the footprint of enterprise resource planning (ERP) solutions in the foreseeable future. Read more.
The Administration's Report on the Future of Artificial Intelligence
Under President Obama's leadership America continues to be the world's most innovative country, with the greatest potential to develop the industries of the future and harness science and technology to help address important challenges. Read more.
https://bootstraplabs.com/wp-content/uploads/sites/4/2016/08/Applied-AI-Digest.png
800
800
Luigi Congedo
https://bootstraplabs.com/wp-content/uploads/sites/4/2018/08/Bootstrap-website_white_logo.png
Luigi Congedo
2017-02-04 00:13:08
2017-02-03 16:19:31
Applied AI Digest 36