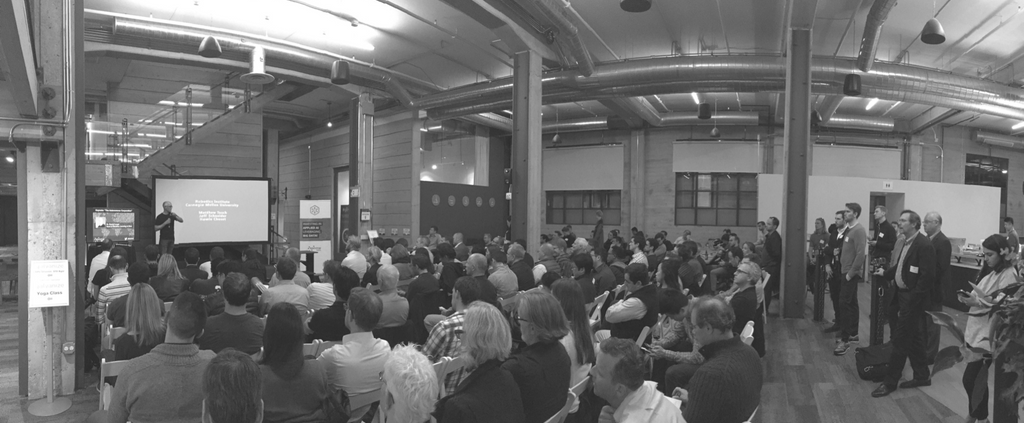 Thank you to the Autonomous Corporation attendees!
We hope that you found the conference informative and enjoyed the networking during the event.
Seeing all of you hanging out until the end of the event made our team proud of their work and strongly encouraged us to keep working hard evangelizing AI around the world.
At BootstrapLabs, we believe that innovation and progress will happen at an accelerated pace in all corners of the globe, and that bringing people together around their shared passion for AI will drive positive impact in our world!
As many of you have been asking, we would like to officially announce that we have started working on next year's Applied AI Conference 2017 (Check out the Applied AI Conference 2016 here) and will soon share more information about date, location and speakers line-up.
Below you can find some social media posts about the Autonomous Corporation event:
The Autonomous Corporation presented by BootstrapLabs is sold out! #AAI16 See you tomorrow! https://t.co/AjIpJgYddH

— BootstrapLabs (@bootstraplabs) November 14, 2016
#AAI16 I was not wrong at all speaking about "autonomous-x": #iot #ai #bigdata will disrupt everything @bootstraplabs pic.twitter.com/vMie3Y56N5

— Stefano Marzani (@smarzani) November 16, 2016
So timely: hearing from @danny_lange on the autonomous corporation at @galvanize #AAI16 #MachineLearning pic.twitter.com/drVmHKxr0t

— MessinaBot (@chrismessina) November 16, 2016
Hanging @bootstraplabs for #AAI16 the autonomous corporation pic.twitter.com/yEmx6R6Vp1

— Nick Cobb (@loyaltyarm) November 16, 2016
AI is taking over white collar jobs! Thank you @bootstraplabs and Danny Lange for distributing the future #AAI16 pic.twitter.com/78oEViYqlO

— Line Rodil (@LineRodil) November 16, 2016
@alex_holub presenting @vidoracorp and how #AI will impact corporations in the next 5 years! #aai16 pic.twitter.com/yCcK9m4hMU

— BootstrapLabs (@bootstraplabs) November 16, 2016
Roger.ai how #AI can help people to manage their bills and liquidity! #fintech #ai #aai16 pic.twitter.com/zdto9EO9Oe

— BootstrapLabs (@bootstraplabs) November 16, 2016
Sabrina from Qurious.io talking about how #AI can help you to create a superstar sales team! #aai16 pic.twitter.com/9pdsvV7CqA

— BootstrapLabs (@bootstraplabs) November 16, 2016
Don't go for big sets of data, just good data. Batman, big headache. @danny_lange #aai16

— Big Data Batman (@BigDataBatman) November 16, 2016
Visited yesterday BootstrapLabs to meet and greet amazing talent and investors. Announcing The Autonomous Corporation; great presentations…

— Harri Salomaa (@harrisalomaa) November 16, 2016
https://bootstraplabs.com/wp-content/uploads/sites/4/2016/11/The-Autnomous-Corporation-presented-by-BootstrapLabs.png
768
1024
Luigi Congedo
https://bootstraplabs.com/wp-content/uploads/sites/4/2018/08/Bootstrap-website_white_logo.png
Luigi Congedo
2016-11-16 14:50:50
2017-02-09 13:14:37
The Autonomous Corporation presented by BootstrapLabs