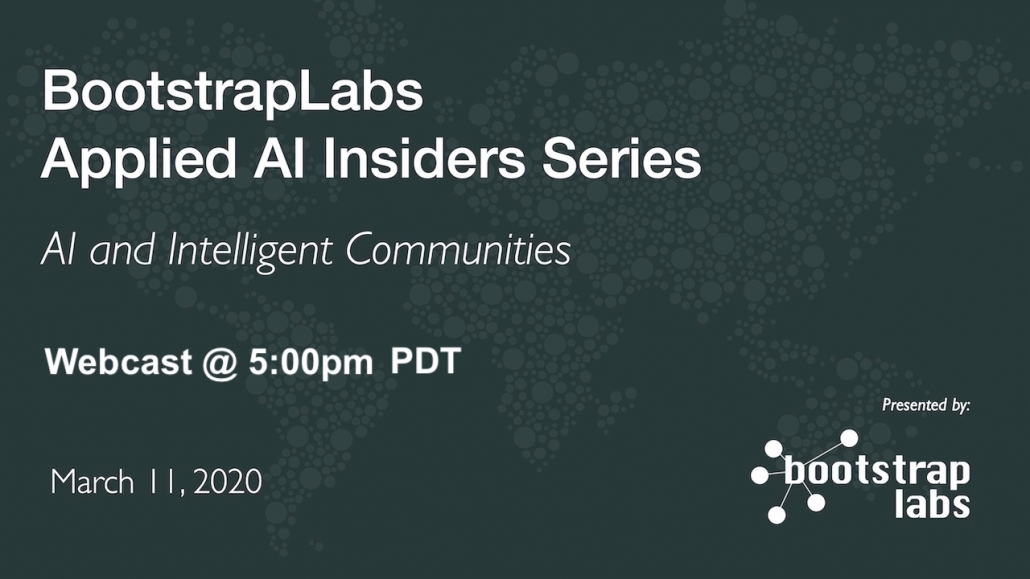 Applied AI and Intelligent Communities
Today, startups are able to use AI to more efficiently and successfully engage, manage, and empower communities to deliver next-generation services and create new business models. From virtual hospitals managing thousands of lives in real time, to community-centric networks powering the internet of things at the edge, or more sustainable energy production and smarter consumption. Intelligent communities will no doubt be at the heart of our new digital society and AI will play a major role in accelerating this transformation.
BootstrapLabs Applied AI Insiders Series are quarterly, invite-only, networking events with thought leaders from our community sharing their latest insights and real-world applications of Artificial Intelligence across industries in which we invest. The fourth Industrial Revolution is already creating billions of dollars in opportunities and will impact people, corporations, and society in profound ways; the question is, what are you doing about it today?
Come join us to learn more about how Artificial Intelligence will revolutionize the very fabric of our society, and influence economic models by establishing the digital infrastructure to intelligently create, engage, and manage communities.
EVENT LOGISTICS UPDATE
Following precautionary measures surrounding the COVID-19 (Coronavirus), BootstrapLabs, together with its event space partner, Wilson Sonsini Goodrich & Rosati, has decided to cancel the physical gathering of this event, and instead would like to invite everyone to join this Applied AI Insiders Series via a webcast starting at 5:00pm PDT Wednesday, March 11, 2020.
The event will start a bit earlier than initially planned so people can join at the end of their workday, and will end shortly after 6:15pm PDT.
In an effort to facilitate present and future networking opportunities for webcast attendees, BootstrapLabs will share contact list information of all attendees with fellow live attendees who have opted-in.
Or contact: events@bootstraplabs.com.
AGENDA
5:00 pm – 5:05 pm | Greetings
5:05 pm – 6:05 pm | Guest Keynotes + Q&A
6:05 pm – 6:15 pm | Recap and Closing
SPEAKERS
Ben Levy, Co-Founder and General Partner, BootstrapLabs
Ben has been actively investing in technology startups and supporting BootstrapLabs' portfolio companies. Born in France and living in Silicon Valley for the past 20 years, Ben is a repeat entrepreneur who launched, built and exited two startups in the financial technology space.
Earlier in his career, Ben was an Investment Banker who advised CxOs of Fortune 500 companies and startup founders on corporate strategy, financing, and M&A. His banking experience spans across firms like Lazard, SG Cowen, Houlihan Lokey, Wedbush Securities, and QuantumWave Capital.
Ben is also a member of AAAI (Association for the Advancement of AI), and a frequent keynote speaker on innovation, technology investing, entrepreneurship, and artificial intelligence in the US, Europe, and Asia.
Natalia Olson-Urtecho, Chief Strategy, Innovation Officer and Co-Founder, The Disruptive Factory
Natalia Olson-Urtecho is a serial entrepreneur with more than 20 years of experience working with international, regional and local entities in Latin America, Central Europe, Asia and the U.S. She is an expert in smart cities, finance, government, international diplomacy, commercialization of technologies, Blockchain, Artificial Intelligence, mobility, public engagement and infrastructure. She is the Co-Founder of the Disruptive Factory and the COO of the RadicalxChange Foundation. She was appointed by President Obama as the SBA Regional Administrator managing yearly 35 billion dollars in government contracts and 8 billion in loans for SMEs. She was responsible for delivery and management of small business programs, development initiatives and financial assistance, overseeing 180 SBA offices. Natalia was appointed to Philadelphia's Planning Commission and served as the Vice Chair of the Zoning Code Commission. She was appointed to the U.S. Innovation Advisory Board to advise Congress and the White House on competitiveness and innovation. She has been honored with numerous prestigious awards such as Woman of Distinction for her work in sustainable infrastructure & the green economy.

Simon MacGibbon, CEO and Co-Founder, Myia Health
Simon MacGibbon is the CEO and co-founder of Myia Health, a predictive and personalized health monitoring platform for virtual patient care. Myia uses machine learning to transform streams of real-world health data into timely and actionable clinical insights.Simon has 25 years of experience using technology to create data driven products and transform enterprise capabilities. Prior to co-founding and leading Myia Health, Simon co-founded the Boston Consulting Group'sDigital Ventures global team. At BCGDV, Simon led teams responsible for imagining, building, and commercializing new technology platforms to help some of the world's most influential companies innovate like startups. Simon was formerly an Associate Partner at McKinsey & Co.and led CRM and analytics implementations with IBM. Simon's belief in the applied benefits of physiological measurement surfaced in the 1990s, while studying neuro psychology and as an exercise physiology researcher and subject at Otago University. Simon has a BSc from Otago University in New Zealand and a BA (Hons) in Applied andIndustrial Psychology from the University of Canterbury.
Micha Benoliel, CEO and Co-Founder, Nodle
Micha is a visionary and serial entrepreneur focused on building Nodle, a global and decentralized wireless network for connecting IoT devices to the internet. Prior to founding Nodle, he enabled Skype to launch Skype In and Skype Out and built several ventures and products in the space of telecommunications, networking and the Internet: Open Garden, FireChat, and PiperChain (Sold to RightMesh).

---
https://bootstraplabs.com/wp-content/uploads/sites/4/2018/08/Bootstrap-website_white_logo.png
0
0
BootstrapLabs
https://bootstraplabs.com/wp-content/uploads/sites/4/2018/08/Bootstrap-website_white_logo.png
BootstrapLabs
2020-02-04 14:00:00
2020-03-09 09:44:54
Announcing BootstrapLabs Applied AI Insiders Series: Applied AI and Intelligent Communities - Webcast