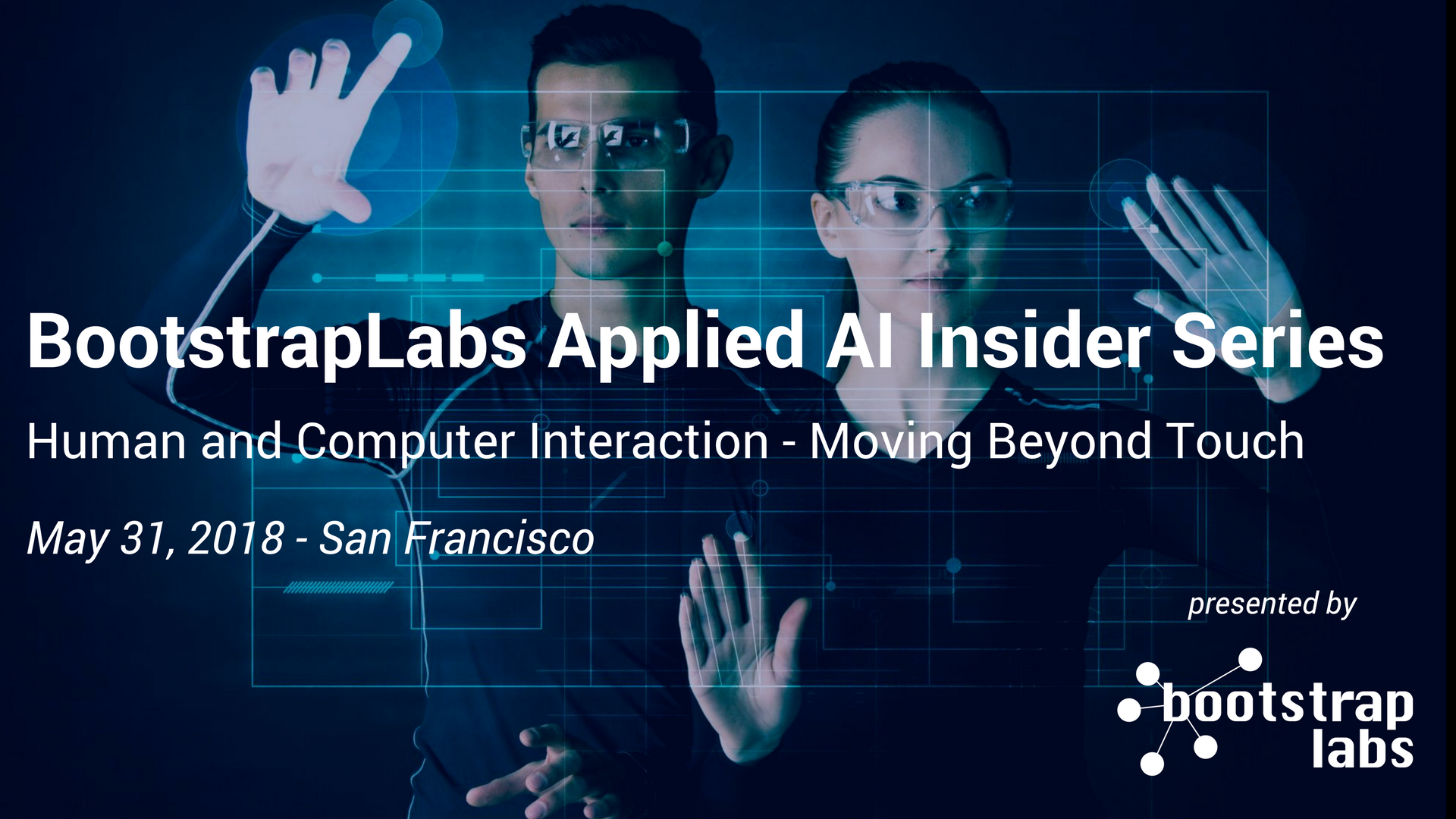 BootstrapLabs is thrilled to announce the Applied AI Insiders Series: Human and Computer Interaction – Moving Beyond Touch.
Event Summary:
Date and Time: Thur, May 31, 2018| 5:30 pm to 8:30 pm
Location: The Google Launchpad Space, 345 Spear St 5th Floor, San Francisco, California 94105
Registration:this event is INVITE ONLY. If you did not receive an invitation you can request one below.
Event Description
Topic: Human and Computer Interaction – Moving Beyond Touch
We stand in front of the 4th and largest wave of the industrial revolution, powered by Artificial Intelligence and Data. This is the biggest opportunity so far for innovation and entrepreneurship, and every single industry will be disrupted and redefined by companies that are not yet even born.
With the AI economic impact projected to reach $15 Trillion by 2030, we believe Applied Artificial Intelligence represents one of the major wealth creation opportunities of this century.
The interaction between Humans and Computers has been in constant evolution. Until the invention of touch screens, our connection with these devices was indirect and relied on additional equipment like a keyboard, screen, stylus, and mouse. It was only a matter of time until AI would be leveraged to radically change that connection, and move us closer to what Dr. J.C.R. Licklider, the pioneering psychologist and computer scientist, forecasted in 1963, a human-computer partnership.
During our May Applied AI Insiders Series event, we will explore practical ways AI is being applied to different Human/Computer interfaces, moving us beyond touch and closer to how we interact with other humans – using speech, gestures and even body language. Sensors that can understand our unique appearance, gestures, emotions or vital signs, voice-enabled interfaces that can hear and "understand" what we say, and even prosthetics that can interact with the electrical impulses our brains uses to control our body, are just some examples of where we're heading.
We will explore the added benefits of these interfaces, but also share thoughts on some of the biggest challenges facing broader adoption of this technology. To get us to the next phase in human-computer collaboration, these systems must gather and analyze countless information on users, but how do we ensure privacy and secure that sensitive data?
As a VC focused on Applied AI, BootstrapLabs looks beyond the hype and has assembled an extraordinary panel of speakers to take you through the current state of AI and Human Computer Interaction. Read more.
Speakers
Ben Levy, Co-Founder, BootstrapLabs
Ben spent the last 20 years in Silicon Valley building and exiting two FinTech startups to Mergent and NASDAQ, investing in disruptive software technologies, and advising CxOs of Fortune 500 Telecom, Media and Technology companies on corporate strategy, financing and M&A.
Ben is a member of the Association for the Advancement of Artificial Intelligence (AAAI), an Ambassador of La FrenchTech, as well as a frequent keynote speaker at industry conferences on innovation, technology investing, entrepreneurship, artificial intelligence, and globalization in the US, Europe, and Asia.
Igor is founder and CEO of Pryon, a stealth startup in the field of artificial intelligence. He also serves as an EIR for Blackstone NC, an initiative to accelerate the commercialization of academic research. He was awarded the Eisenhower and Truman National Security Fellowships to research the connection between government and venture capital in fostering innovation.
Previously, Igor was founder and CEO of Yap, a VC-backed startup that pioneered cloud-based speech recognition. It was acquired by Amazon to act as the nucleus of AI-related products such as Alexa, Echo, and Fire TV. He holds over two dozen patents issued and pending and was named an industry luminary by Speech Technology Magazine. Igor holds a BS in Computer Engineering from The Pennsylvania State University and an MBA from The University of North Carolina.
Mark Nitzberg, Executive Director, Center for Human Compatible AI – UC Berkeley
Dr. Mark J. Nitzberg is currently Executive Director of the Center for Human Compatible Artificial Intelligence as well as head of strategic outreach for the Berkeley AI Research Lab at the University of California, Berkeley. Founded in late 2016, the UC Berkeley Center for Human-Compatible Artificial Intelligence (CHAI) aims to reorient the field of AI towards creating systems that are provably safe and beneficial to humans.
Dr. Nitzberg is also the co-author of "Solomon's Code" and also serves as Principal & Chief Scientist at Cambrian.ai, as well as advisor to a number of startups. Most recently he was Director of Computer Vision Products at A9/Amazon following their acquisition of The Blindsight Corporation, where he was founding CEO. An entrepreneur, scientist, and seasoned organizational leader, Dr. Nitzberg has built companies and products in the areas of computer vision, machine learning, financial portfolio optimization, workflow efficiencies, online commerce, development aid, data capture, analytics, film, and theatre.
Dr. Nitzberg began studying AI with Marvin Minsky as a stowaway student at MIT in the "expert systems" wave of the early 1980's, and wrote his Ph.D. on Computer Vision and Human Perception in 1991 under David Mumford at Harvard University.
Omar Abdelwahed, Head of Studio, SoftBank Robotics America
Omar Abdelwahed is a producer, engineer and currently the Head of Studio at SoftBank Robotics America. Omar has more than 15 years experience leading teams for large video game publishers including Ubisoft and 2K; independent developers like Mighty Play and PLAYSTUDIOS; and retailers such as Best Buy. Omar's work includes the free-to-play shooter, "Ghost Recon Phantoms," and the NBA video game franchise, "NBA2K". Omar founded the independent games developer, Agent Disco, where he published his first mobile game, "The Null Society".
Thank You To Our Host and Partner

Applied Artificial Intelligence Newsletter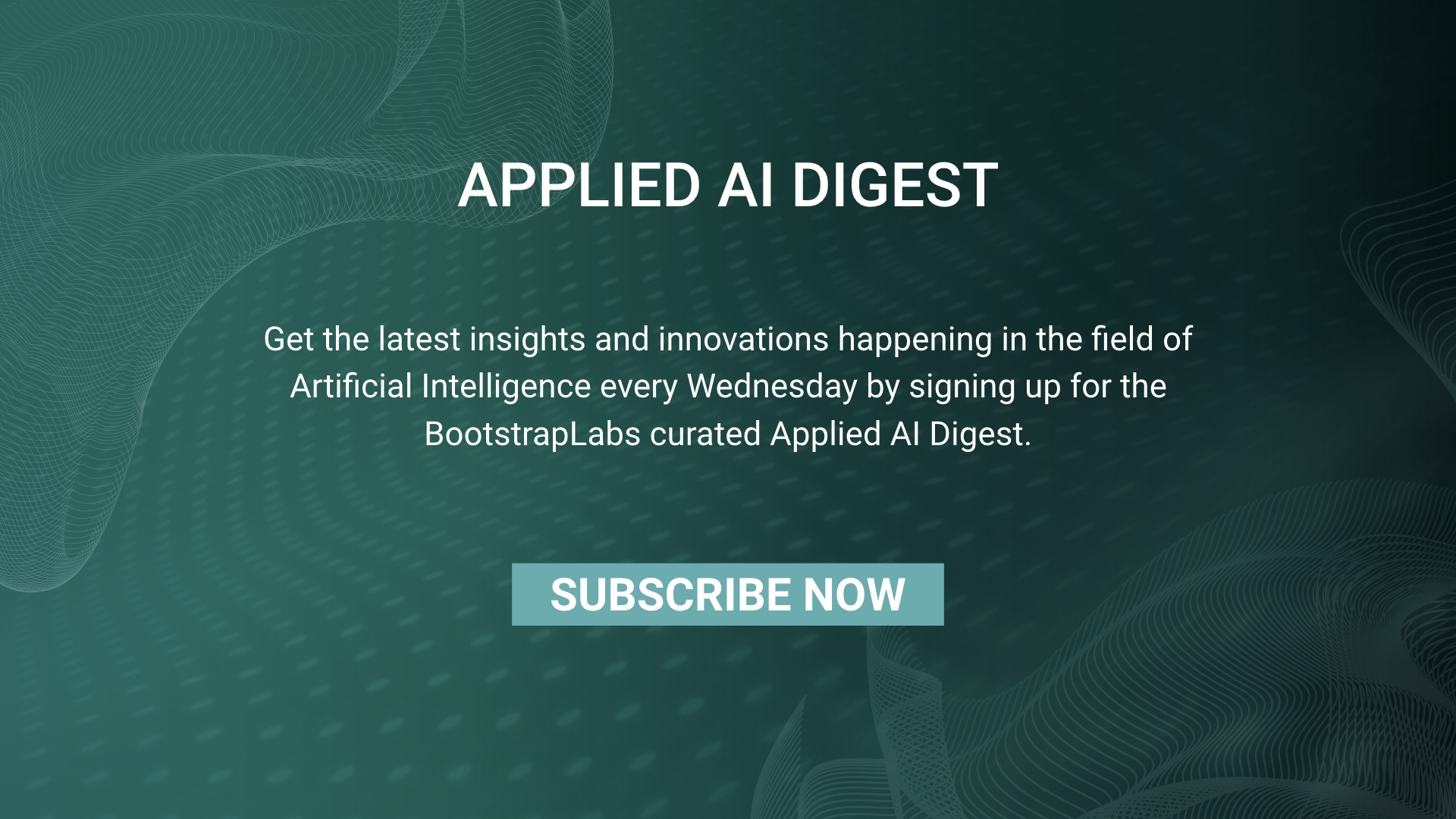 https://bootstraplabs.com/wp-content/uploads/sites/4/2018/05/BootstrapLabs-Applied-AI-Insider-Series-1.png
1080
1920
https://bootstraplabs.com/wp-content/uploads/sites/4/2018/08/Bootstrap-website_white_logo.png
2018-05-09 10:01:48
2019-09-29 16:04:00
Announcing the BootstrapLabs Applied AI Insiders Series: Human and Computer Interaction - Moving Beyond Touch