The latest Data, Insights, and Inspiration about Applied AI
Feel free to forward this email or share it with your network.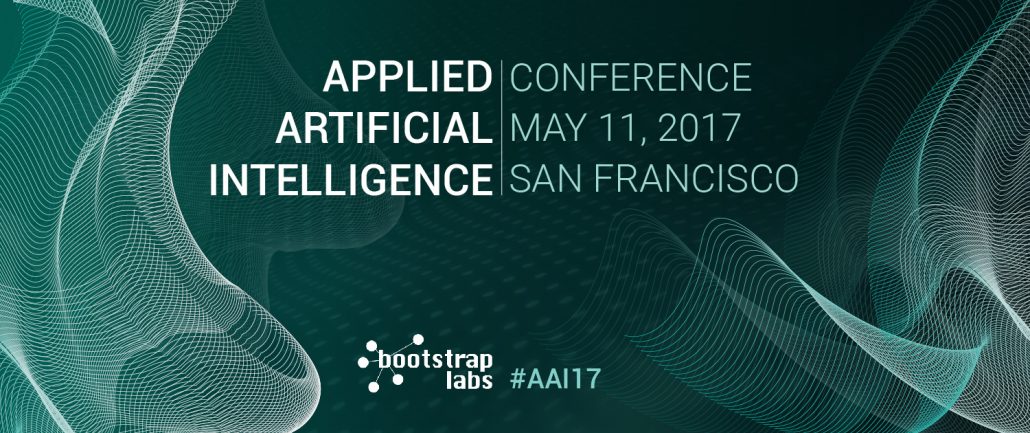 BootstrapLabs is pleased to announce the return of its annual Applied Artificial Intelligence Conference 2017 in
San Francisco May 11, 2017.
We will make a big announcement about the conference next week, but we thought we would give an opportunity to the Applied AI Digest Readers to get the best rate and save $650 now on the limited Super Early Bird tickets promotion!
Applied Artificial Intelligence Digest
The Power of Artificial Intelligence is to Make Better Decisions
The power of augmented intelligence and AI is mass personalization at scale. With projections of 6 billion smartphone users and over 50 billion connected devices by 2020, the next generation customer experience will be powered by artificial intelligence. Read more.
How to Learn Machine Learning: an Investor's Perspective
There's been lot of hype around AI and ML in business over the past five years. Even among investors exist a lot of misconceptions about using ML in a business context, and how to get up to speed on and learn machine learning as it applies to utility in industry.
Read more.
5 industries robots will transform forever
This year is expected to be a great leap forward in automation and the development of artificial intelligence, as machine learning and neural networks mean that robots can learn and understand more than ever before. Read more.
Is Your Startup Ready for Artificial Intelligence?
How much of your time is actually spent on productive pursuits? Probably a lot less than you think. A recent Singlehop survey of IT pros revealed that those professionals spent only 36 percent of their average workweek on new projects and proactive tasks. Read more.
Artificial Intelligence conquer poker not without human help
Kim is a high-stakes poker player who specializes in no-limit Texas Hold 'Em. The 28-year-old Korean-American typically matches wits with other top players on high-stakes internet sites or at the big Las Vegas casinos.
Read more.
Impact of job-stealing robots a growing concern at Davos
Open markets and global trade have been blamed for job losses over the last decade, but global CEOs say the real culprits are increasingly machines. And while business leaders gathered at the annual World Economic Forum (WEF) in Davos relish the productivity gains technology can bring…
Read more.
Applied AI Digest Review 2016
See the most impactful artificial intelligence news of 2016. Read more.
Applied AI Digest is a weekly email curated by BootstrapLabs t
o share the latest insights and innovations happening in the field of Artificial Intelligence. 

Please help us to grow the community by forwarding this email to your friends who are interested in learning more about AI.
Feel free to forward this email or share it with your network.
https://bootstraplabs.com/wp-content/uploads/sites/4/2015/12/AAI_WEB_BANNER.jpg
630
1500
Luigi Congedo
https://bootstraplabs.com/wp-content/uploads/sites/4/2018/08/Bootstrap-website_white_logo.png
Luigi Congedo
2017-03-22 23:54:23
2017-03-23 16:54:17
Applied AI Digest 51