The latest Data, Insights, and Inspiration about Applied AI
Feel free to forward this email or share it with your network.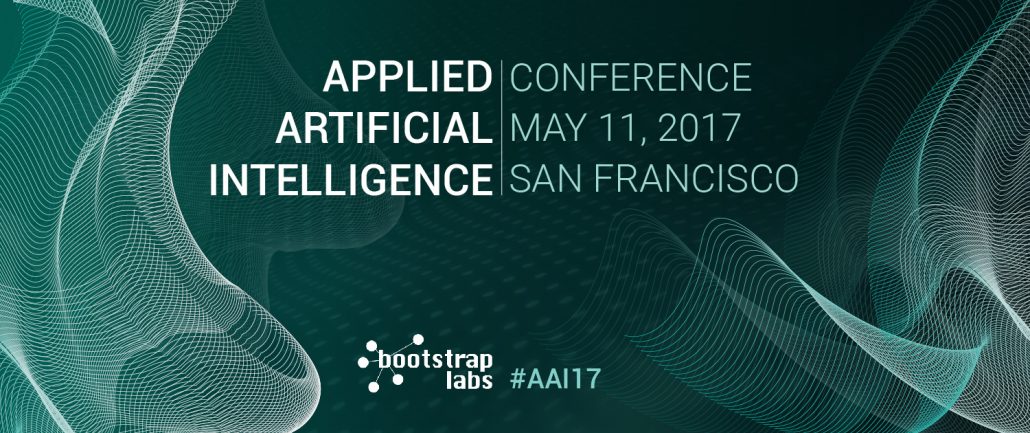 Register now for the Applied AI Conference 2017 #AAI17
Save $650 now on the limited Super Early Bird tickets promotion!
Learn more about the Applied AI Conference 2017 at this link.
Applied Artificial Intelligence Digest
How Artificial Intelligence Can Transform Your Business Today
One of the biggest opportunities for business is to utilize AI, yet most don't understand the importance of a human's role in adopting this new technology. Read more.
Facebook wants to improve your ad experience and is using AI to help it better understand what content you like
Facebook once again reported very good earnings last week, with massive growth in both user numbers and ARPU driving both significant revenue and profit growth. Read more.
Why Google, Ideo, And IBM Are Betting On AI To Make Us Better Storytellers
Sharing emotion-driven narratives that resonate with other people is something humans are quite good at. We've been sitting around campfires telling stories for tens of thousands of years, and we still do it. Read more.
China's Intelligent Weaponry Gets Smarter
Robert O. Work, the veteran defense official retained as deputy secretary by President Trump, calls them his "A.I. dudes." The breezy moniker belies their serious task:
read more.
Artificial Intelligence-Driven Robots: More Brains Than Brawn
Automation and robots for manufacturing have come a long way since Unimate was introduced in the 1960's. The machines that manufacturers are using today are smaller,
read more.
Why C-Levels Need To Think About eLearning And Artificial Intelligence
I will dispense with any amenities and cut right to the chase. When it comes to corporate learning and training the numbers are truly staggering. Read more.
How to Learn Machine Learning: an Investor's Perspective
There's been lot of hype around AI and ML in business over the past five years. Even among investors exist a lot of misconceptions about using ML in a business context, and how to get up to speed on and learn machine learning as it applies to utility in industry.
Read more.
Applied Artificial Intelligence Conference 2017
The Applied AI Conference is a must-attend event for people who are working, researching, building, and investing in Applied Artificial Intelligence technologies.
This year the conference is focused on practical applications and current commercialization of AI technologies across industries such as Transportation & Logistics, Internet of Things (IoT), Future of Work (FoW), Financial Technologies (FinTech), CyberSecurity, and Healthcare Technologies (HealthTech). It also explores how AI is impacting society, the enterprise and you!
Applied AI Digest is a weekly email curated by BootstrapLabs t
o share the latest insights and innovations happening in the field of Artificial Intelligence. 

Please help us to grow the community by forwarding this email to your friends who are interested in learning more about AI.
Feel free to forward this email or share it with your network.
Applied AI Digest Review 2016
See the most impactful artificial intelligence news of 2016. Read more.
https://bootstraplabs.com/wp-content/uploads/sites/4/2015/12/AAI_WEB_BANNER.jpg
630
1500
Luigi Congedo
https://bootstraplabs.com/wp-content/uploads/sites/4/2018/08/Bootstrap-website_white_logo.png
Luigi Congedo
2017-03-23 00:08:57
2017-03-23 16:53:24
Applied AI Digest 52