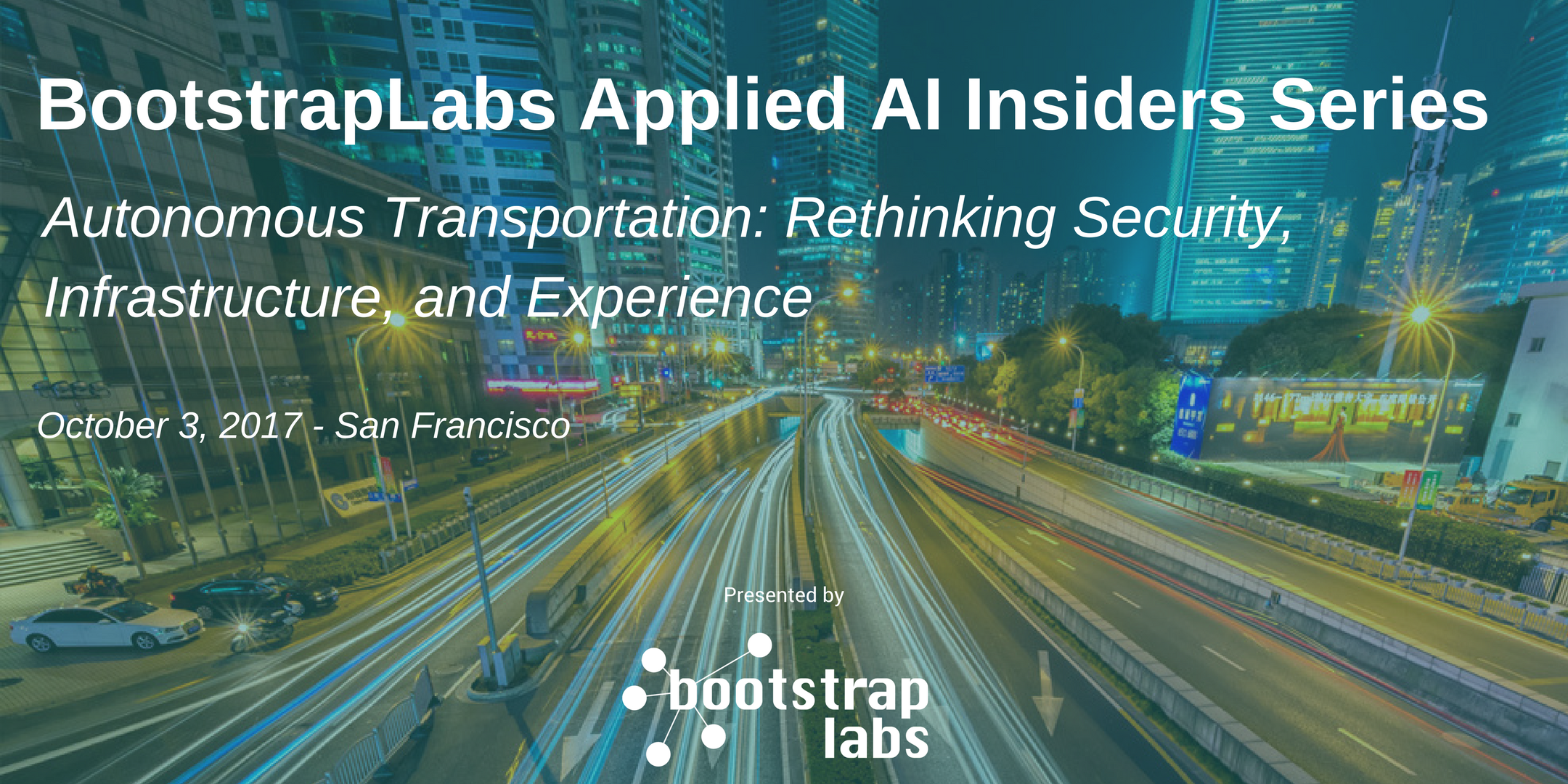 BootstrapLabs is thrilled to announce the BootstrapLabs Applied AI Insiders Series: Autonomous Transportation
Event Summary:
Date and Time: Tue, October 3, 2017 | 6:00 pm to 9:00 pm
Location: Google Launchpad Space, 301 Howard Street, San Francisco, California 94105
Registration: this event is INVITE ONLY. If you did not receive an invitation you can request one below.
Event Description
Topic: Autonomous Transportation: Rethinking Security, Infrastructure, and Experience
Autonomous transportation goes well beyond cars and includes all modes of powered transport such as motorcycles, buses, trucks, trains, ships, helicopters, planes, and even spacecraft. There are also various degrees of autonomy levels which need to be considered in the context of fluid and frictionless mobility.
Secure and intelligent communication networks, smart sensors, reliable and fast identification, fail safe and redundancy planning must all come together for the dream to become reality and to ensure safety and security. Read more.
Speakers
Ben Levy, Co-Founder, BootstrapLabs
Ben spent the last 20 years in Silicon Valley building and exiting two FinTech startups to Mergent and NASDAQ, investing in disruptive software technologies, and advising CxOs of Fortune 500 Telecom, Media and Technology companies on corporate strategy, financing and M&A.
Ben is a member of the Association for the Advancement of Artificial Intelligence (AAAI), an Ambassador of La FrenchTech, as well as a frequent keynote speaker at industry conferences on innovation, technology investing, entrepreneurship, artificial intelligence, and globalization in the US, Europe, and Asia.
Steinhardt was Chief Scientist for DARPA, Chief Scientist at Booz Allen, co-author of a book on adaptive radar, and assistant professor in Electrical Engineering and Applied Mathematics at Cornell University among other experiences.
Tilly Chang, Executive Director of the San Francisco County Transportation Authority
Ms. Chang has also held posts with the World Bank, Metropolitan Transportation Commission, and a
technology startup. She serves on the boards of the California Transportation Foundation, SPUR and
the UC Transportation Centers.
Chad is an accomplished executive making his recent mark as an entrepreneur in enterprise software contributing mission critical video, geospatial metadata, and computer vision within unmanned systems markets. His company Metamoto is a startup specializing in scalable simulation for autonomous systems.
Thank You To Our Host and Partner

Applied Artificial Intelligence Conference 2018 #AAI18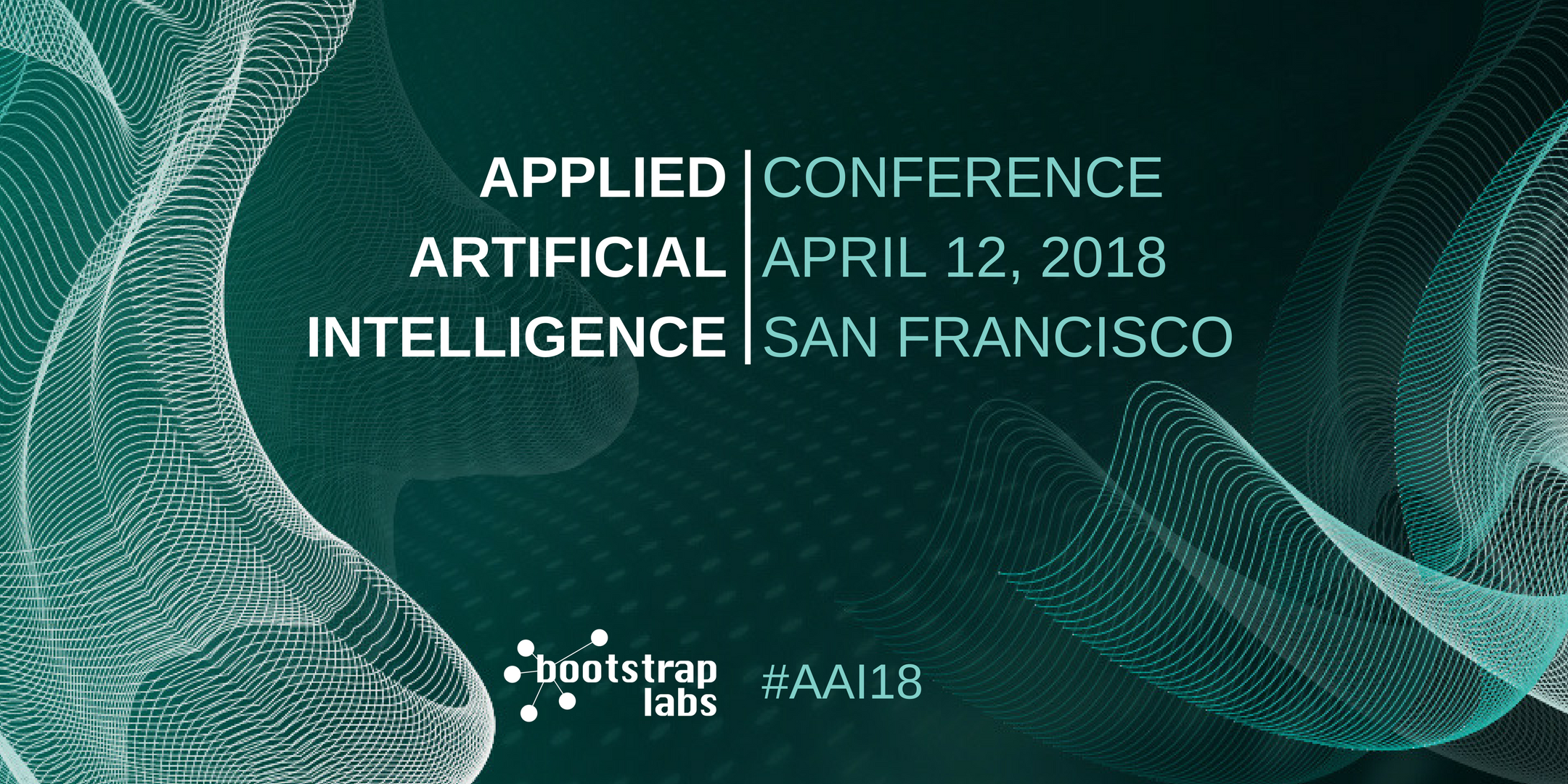 https://bootstraplabs.com/wp-content/uploads/sites/4/2017/09/Autonomous-Transportation-Rethinking-Security-Infrastructure-and-Experience.png
1080
2160
Luigi Congedo
https://bootstraplabs.com/wp-content/uploads/sites/4/2018/08/Bootstrap-website_white_logo.png
Luigi Congedo
2017-09-15 16:48:07
2019-09-29 16:04:04
Announcing the BootstrapLabs Applied AI Insiders Series: Autonomous Transportation