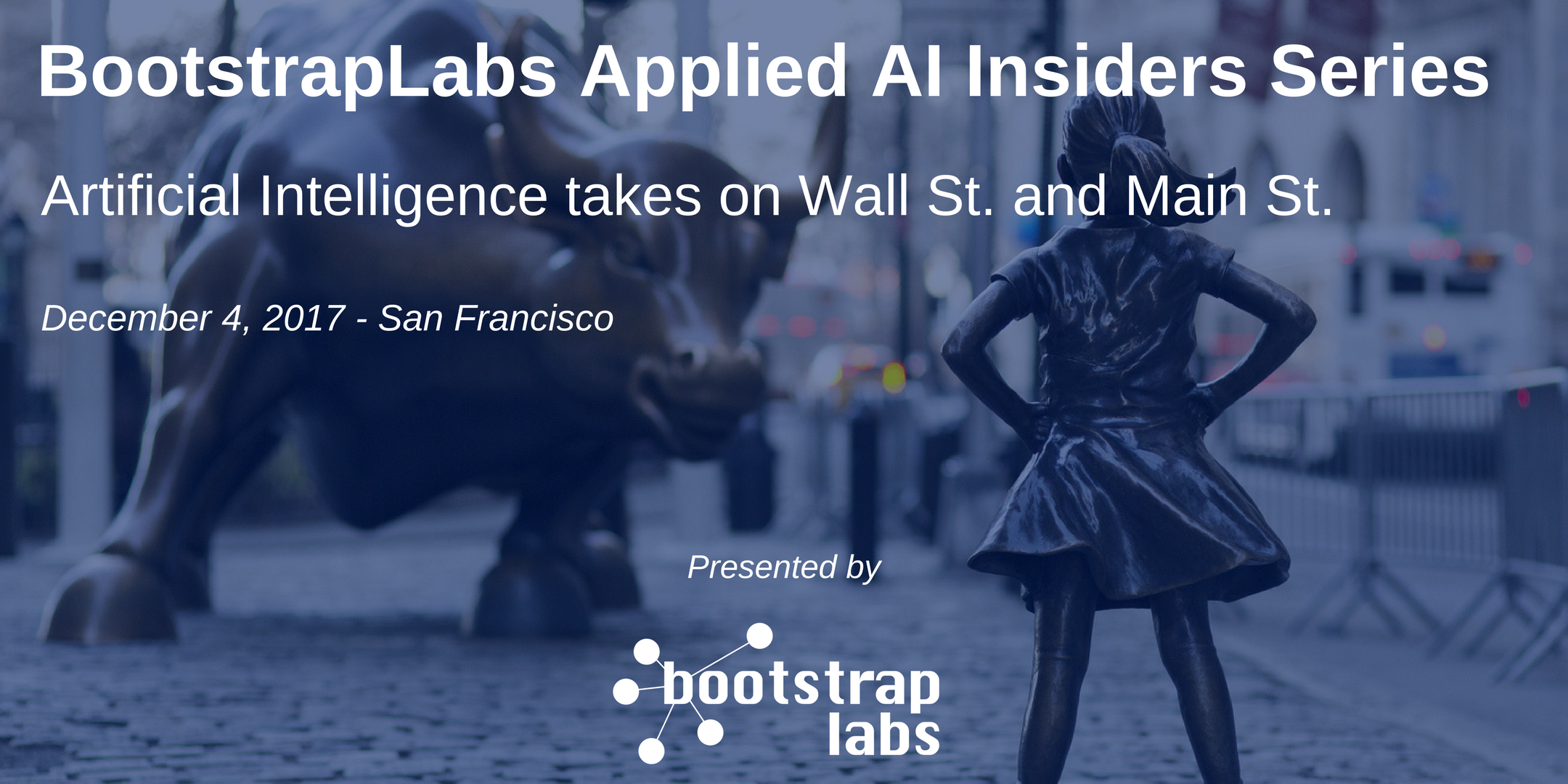 BootstrapLabs is thrilled to announce the BootstrapLabs Applied AI Insiders Series: FinTech.
Event Summary:
Date and Time: Mon, December 4, 2017| 5:30 pm to 8:30 pm
Location: Google Launchpad Space, 301 Howard Street, San Francisco, California 94105
Registration: this event is INVITE ONLY. If you did not receive an invitation you can request one below.
Event Description
Topic: Fintech: Artificial Intelligence takes on Wall St. and Main St.
The financial sector represents trillions of dollars in annual spending, most of which goes to technology, security, and infrastructure. Yet, the sector is seeing an unprecedented level of VC funding and potential disruption from new (and some already established) startups that are threatening the incumbents on all sides, including retail banking, individual, business, mortgage and auto loans, peer-to-peer payments, portfolio management, savings, bill payments, international wire transfers, and even money itself.
The financial sector is also no stranger to big data, and few industries are as well equipped to benefit from the promises (and suffer from the risk) of Artificial Intelligence.
During our December Applied AI Insiders Series event, we will explore practical ways AI is being applied to deliver new products and services that are faster, cheaper and better, but also share some thoughts on some of the biggest challenges the sector faces with the advances of AI, broader adoption of blockchain technologies, and disintermediation. Read more.
Speakers
Nicolai Wadstrom, a serial entrepreneur turned parallel entrepreneur as the founder of BootstrapLabs. Nicolai advises all portfolio startups in their day to day operations, connecting founders with industry experts, advisors and investors to increase their likelihood of success, assisting with product design and development, positioning, go-to-market strategy and implementation, partnerships and fundraising.
Nicolai is a frequent speaker, mentor and judge at top Universities and Conferences in the US and Europe on topics such as Entrepreneurship, Innovation, Disruption, Startups and Venture Capital.
Will Summerlin is the Founder and CEO of Pinn, a cybersecurity company with a mission to solve the digital identity crisis. He was previously a founder of Arrive, a software company providing solutions to intelligent transportation providers. He is currently an advisor to Arrive and Story Ventures.
After exiting her first company to Cisco in 2014 and helping to jumpstart innovation efforts within AI/ML for this Silicon Valley giant, Cathrine has now co-founded Roger.ai, building the world's first borderless bill pay and bill lending platform.
Thank You To Our Host and Partner

Applied Artificial Intelligence Conference 2018 #AAI18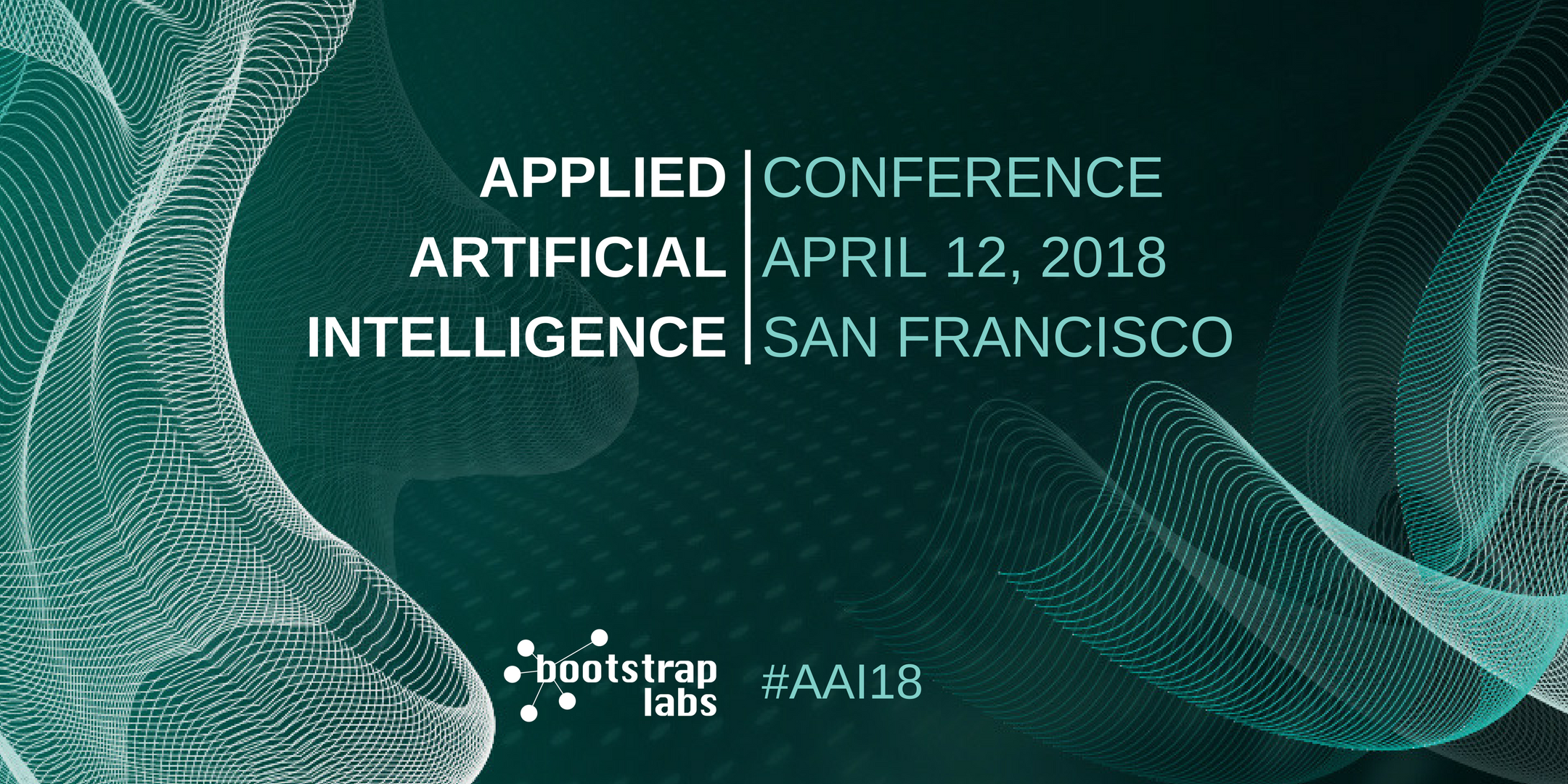 https://bootstraplabs.com/wp-content/uploads/sites/4/2017/11/BootstrapLabs-Applied-AI-Insiders-FinTech.png
1080
2160
Luigi Congedo
https://bootstraplabs.com/wp-content/uploads/sites/4/2018/08/Bootstrap-website_white_logo.png
Luigi Congedo
2017-11-14 17:14:15
2019-09-29 16:04:03
Announcing the BootstrapLabs Applied AI Insiders Series: FinTech