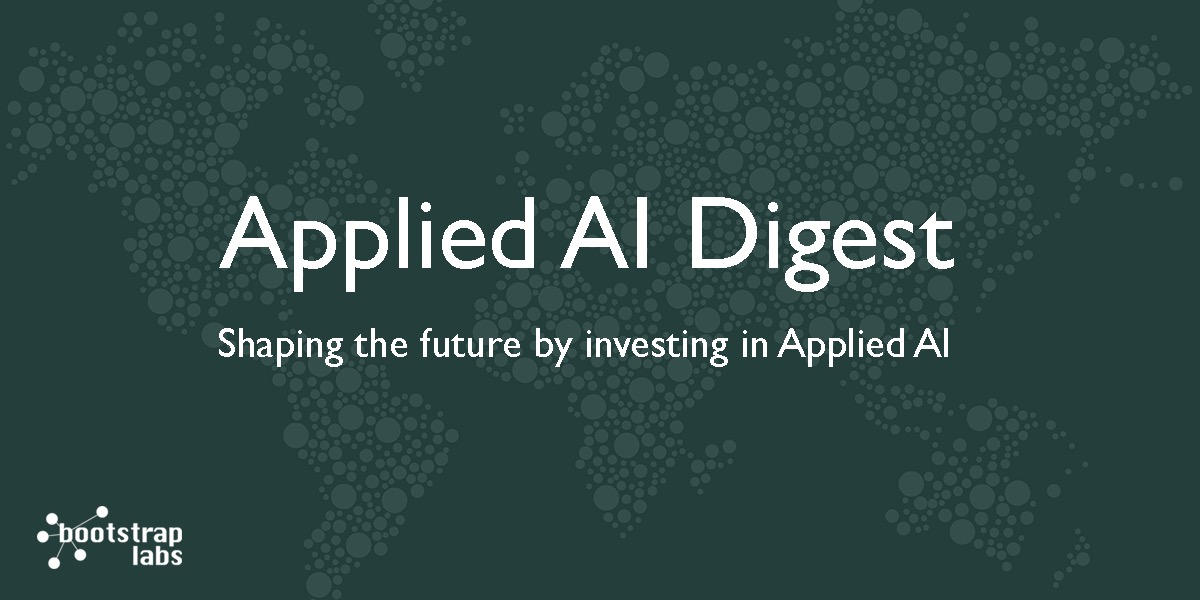 The latest Data, Insights, and Inspiration about Applied AI
AAI18 Keynote and Fireside Chat – Applied AI in Healthcare: Deep Impact
Over the next several weeks we'll be releasing the videos from the sessions from the BootstrapLabs Applied AI Conference 2018. During this session, the panelists discussed the future of authentication, leveraging AI to prevent and detect threats and security around databases that collect our information.
Applied Artificial Intelligence Digest
Why businesses fail at machine learning
I'd like to let you in on a secret: when people say 'machine learning' it sounds like there's only one discipline here. There are two, and if businesses don't understand the difference, they can experience a world of trouble… Read more
This Is Why All Companies Need An AI Strategy Today
Artificial Intelligence (AI) is fundamentally changing how businesses operate across all sectors, including manufacturing, healthcare, IT, and transportation… Read more
Great Power, Great Responsibility: The 2018 Big Data & AI Landscape
Just as last year, the data tech ecosystem has continued to "fire on all cylinders".  If nothing else, data is probably even more front and center in 2018, in both business and personal conversations.  Some of the reasons, however, have changed… Read more
An Overview of National AI Strategies
The race to become the global leader in artificial intelligence (AI) has officially begun. In the past fifteen months, Canada, Japan, Singapore, China, the UAE, Finland, Denmark, France, the UK, the EU Commission, South Korea, and India have all released strategies to promote the use and development of AI… Read more
After Self-Driving Cars Get Billions, Trucks Get Second Look
The self-driving truck market is getting more congested. Three new startups—including one whose existence hasn't been disclosed before—are developing autonomous truck-related software… Read more
Job Opportunities:
BootstrapLabs has an ongoing jobs page that includes opportunities from our 20+ AI portfolio companies. Check out new openings below!
2017 AI Digest Review
Every week the BootstrapLab's team curates the most interesting and current articles on Artificial Intelligence. To inspire you in 2018, we wanted to share our Applied AI Digest Review – a recap of all the major AI news and trends of 2017.
https://bootstraplabs.com/wp-content/uploads/sites/4/2018/09/BootstrapLabs-Mailchimp-Banner-2x.jpeg
600
1200
https://bootstraplabs.com/wp-content/uploads/sites/4/2018/08/Bootstrap-website_white_logo.png
2018-07-11 03:28:54
2019-09-29 16:03:58
Applied AI Digest 120