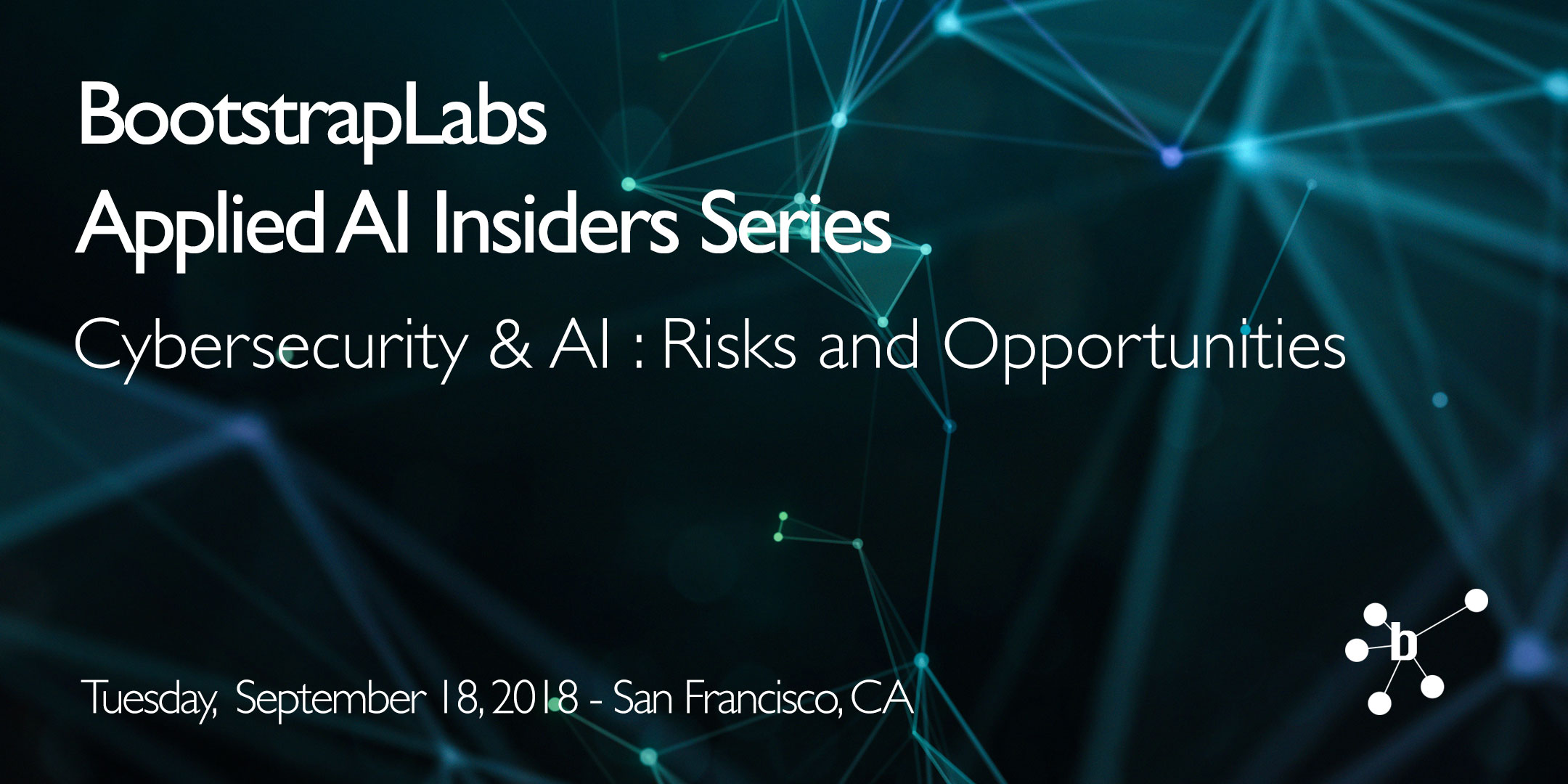 BootstrapLabs is excited to announce our next Applied AI Insiders Series event, Cybersecurity & AI: Risks and Opportunities
Event Summary
Date and Time: Tuesday September 18, 2018 | 5:30 pm to 8:30 pm
Location: The Google Launchpad Space, 543 Howard St., San Francisco, California 94105
Registration: This event is INVITE ONLY. If you did not receive an invitation you can request one below.
Event Description
Event Topic: Cybersecurity and AI – Risks and Opportunities
We stand in front of the 4th and largest wave of the industrial revolution, powered by AI and Data. This is the biggest opportunity, so far, for innovation and entrepreneurship, and every single industry will be disrupted and redefined by companies that are not yet even born.
With the AI market projected to grow over 20 fold in the next 10 years to $3 Trillion annually, we believe Applied Artificial Intelligence represents one of the major wealth creation opportunities of this century.
US organizations will soon be spending over $100 billion per year in cybersecurity, a number that is expected to grow significantly given the massive adoption of cloud computing, the number of connected devices, and the increase in cybercrime activities. While cybersecurity startups have raised ~ $4.2 billion in VC funding, the need for data privacy and protection grows. As does the need for secure intelligent communication networks, fast reliable authentication, fail-safe and redundancy planning, and certified/established regulatory systems. The future of cybersecurity offers many risks, but also business opportunities enabled by applying artificial intelligence to protect people, operations, organizations, and nation states. Join us for an evening of multi-dimensional discussion related to the intersection of AI and Cybersecurity.
SPEAKER BIOS:
John Apostolopoulos, VP & CTO for Enterprise Networking Business CISCO 
John Apostolopoulos is VP/CTO of Cisco's Enterprise Networking Business (Cisco's largest business) where he drives the technology and architecture direction in strategic areas for the business.  This covers the broad Cisco portfolio including Intent-Based Networking (IBN), Internet of Things (IoT), wireless (ranging from Wi-Fi to emerging 5G), application-aware networking, multimedia networking, indoor-location-based services, connected car, machine learning and AI applied to the aforementioned areas, and deep learning for visual analytics.
Previously, John was Lab Director for the Mobile & Immersive Experience Lab at HP Labs.  The MIX Lab conducted research on novel mobile devices and sensing, mobile client/cloud multimedia computing, immersive environments, video & audio signal processing, computer vision & graphics, multimedia networking, glasses-free 3D, next-generation plastic displays, wireless, and user experience design.
Erin Kenneally, Program Manager, Department of Homeland Security
Erin Kenneally is currently serving out her role as Program Manager in the Cyber Security Division for the U.S. Dept of Homeland Security, Science & Technology Directorate. Her portfolio comprises cybersecurity research infrastructure, privacy, cyber risk economics, and technology ethics. She manages the IMPACT (Information Marketplace for Policy and Analysis of Cyber-risk and Trust), CYRIE (Cyber Risk Economics), and Data Privacy programs. Kenneally is Founder and CEO of Elchemy, Inc., and served as Technology-Law Specialist at the International Computer Science Institute (ICSI) and the Center for Internet Data Analysis (CAIDA) and Center for Evidence-based Security Research (CESR) at the University of California, San Diego. Erin is a licensed Attorney specializing in information technology law, including privacy technology, data protection, artificial intelligence ethics and legal risk, trusted information sharing, technology policy, cybercrime, data ethics, and emergent IT legal risks. She holds Juris Doctorate and Masters of Forensic Sciences degrees and is a graduate of Syracuse University and The George Washington University.
Chris Calvert, Co-Founder & VP Product Strategy at Respond Software
Chris has over 30 years' experience in information security. He led the build for eight Fortune-50 SOCs and created the blueprint deployed by the ArcSight solutions team at over 45 security operations centers. He has served as HP's WW Director of Solutions Innovation, CEO of Laconic Security, Director of Services for Cybertrust, and Manager of Security Intelligence and Operations for IBM's MSS. Chris also spent 14 years in the National Defense and Intelligence community in the field of Information Operations and 10 years in the U.S. Army in Military Intelligence and Special Forces. Today, Chris is Co-Founder and VP of Product Strategy at Respond Software, inventors of the exclusive Self-Driving SOC.
For press inquiries, please contact press@bootstraplabs.com
Thank You To Our Host and Partner

https://bootstraplabs.com/wp-content/uploads/sites/4/2018/08/AAIIS-Q3-Cybersecurity-1.jpg
1080
2160
https://bootstraplabs.com/wp-content/uploads/sites/4/2018/08/Bootstrap-website_white_logo.png
2018-08-22 08:15:57
2019-09-29 16:03:57
Announcing the BootstrapLabs Applied AI Insiders Series | Cybersecurity and AI: Risks and Opportunities