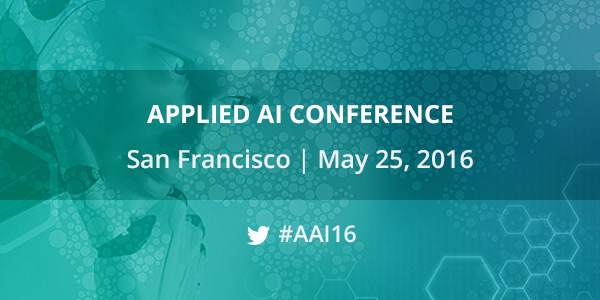 SAN FRANCISCO, CALIFORNIA (PRWEB) MAY 25, 2016
The annual BootstrapLabs Applied Artificial Intelligence Conference will take place on Wednesday May 25th in San Francisco.
This year's conference will focus on AI's disruptive power and its impact on Society, the Enterprise, and People. The conference has a packed house of 400+ attendees and features 43 thought leaders in AI from companies like AirBnb, Accenture, Amazon, BMW, Facebook, IBM, NASA, Sentient, Singularity University, Stanford University, Uber and more.
The conference sessions include keynotes and panels on some of the most relevant topics in the AI space, including:
● Exponential Disruption with Rob Nail, CEO & Associate Founder, Singularity University
● Bring Machine Learning to every corner of your Organization with Danny Lange, Head of Machine Learning, Uber
● Ingredients for Successful AI Platforms , with Hussein Mehanna, Director, Core Machine Learning, Facebook
● Innovation and Inspiration through Cognitive Computing with Swami Chandrasekaran, Chief Technologist, IBM Watson
● Fully Autonomous Agents – The Next Big Thing in AI with Nigel Duffy, CTO, Sentient
● Autonomous Transportation and Mobility ­Uwe Higgen, Head Technology USA, BMW
● Meet Amy, your new Personal Assistant with Josh Constine, Editor­At­Large, TechCrunch, and Dennis R. Mortensen, Founder & CEO, x.ai
● Chatbots in the Physical World with Jack Clark, Reporter, Bloomberg and Oren Jacob, Co­Founder & CEO, PullString
Why AI is changing everything?
Artificial Intelligence is not new, but the underlying technologies have reached an inflection point. AI is entering a commercialization phase and every product and industry sector is being reimagined using an AI­ first approach. BootstrapLabs believes this will drive an accelerated pace of innovation in most industry verticals across the globe.
"We have entered the age of Applied AI, and as an investor at the forefront of this industry, we wanted to bring together our friends from Facebook, Uber, Amazon, IBM, Airbnb, NASA, BMW, Department of Homeland Security, Singularity University, Stanford, and so many others to join us for a special conversation on the s tate of things in Applied AI and where we are headed,," said Nicolai Wadstrom, CEO of BootstrapLabs.
Follow this link to view the conference agenda and full speakers list – http://hackers.ai/applied-artificial-intelligence-conference/speakers/
About BootstrapLabs
BootstrapLabs is a Silicon Valley based Venture Builder Company with a global outlook on innovation, combining Human Capital with Venture Capital to invest in Applied Artificial Intelligence startups leveraging Big Data.
BootstrapLabs' investment platform stands on three core pillars: Venture Capital, Human Capital, and a Community of founders, makers and thought leaders. Founded and operated by entrepreneurs, BootstrapLabs understands firsthand the needs and challenges of building a startup, and invests early in passionate founders who are building potentially disruptive technology companies with global potential.
BootstrapLabs' current seed fund invests in innovative and smart AI­powered software platforms that create significant value for their users in large, global markets. Key sectors of interest include Internet of Things, FinTech, Future of Work, Logistics, Security, eHealth, and others.
Since its inception, BootstrapLabs has invested and worked with startups such as Prezi, Trusted Insight, AngelList, Aeye, and Zerply.
Contacts
BootstrapLabs
Press inquiries Email: info(at)bootstraplabs(dot)com
Webiste: http://www.bootstraplabs.com
Twitter: @Bootstraplabs
Applied AI Conference hashtag: #AAI16
More articles about the Applied AI Conference:
Facebook spares humans by fighting offensive photos with AI
Are High Stress Decisions Best Made by Bots?
Facebook's machine learning director shares tips for building a successful AI platform
New Frontiers in Artificial Intelligence
UBER's Head of Machine Learning Thinks You Might be Doing it Wrong
How is AI changing the enterprise?
When Artificial Intelligence Meets Reality
https://bootstraplabs.com/wp-content/uploads/sites/4/2016/01/Eventbrite.jpg
300
600
Luigi Congedo
https://bootstraplabs.com/wp-content/uploads/sites/4/2018/08/Bootstrap-website_white_logo.png
Luigi Congedo
2016-06-01 13:21:57
2017-01-19 11:21:24
Press Release: The Applied Artificial Intelligence Conference 2016