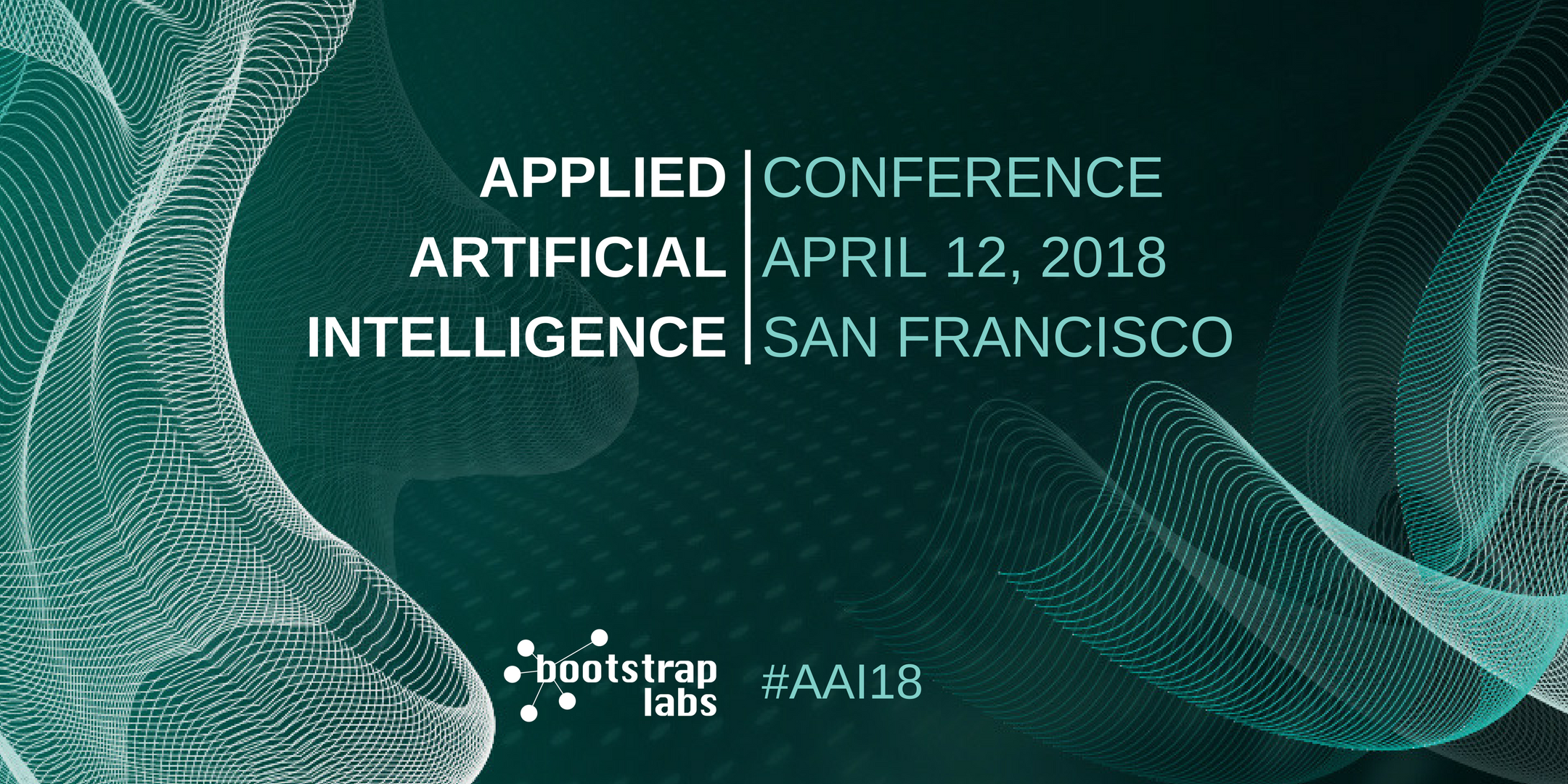 BootstrapLabs is excited to announce the third annual Applied Artificial Intelligence Conference in San Francisco on April 12, 2018.
After the incredible success of 2017's Applied AI Conference, we're excited to share this day with over 800 AI professionals.
Watch the video summary of the Applied AI Conference 2017:
The one day conference brings together the brightest and most experienced professionals in the field of AI for an immersive day of learning, discussion, and connections.
This year we will have extraordinary sessions highlighting the practical applications and current business opportunities for Artificial Intelligence technologies across industries including Cybersecurity, Transportation and Logistics, Future of Work, Financial Technologies (FinTech), Healthcare, and more.
During the conference our expert speakers will showcase all of the concrete ways decision makers across the research, investment, corporate, and startup worlds can prepare, organize, and tap into AI's transformative power.
The 2018 attendees will walk away with insights into the latest trends in Artificial Intelligence, including emerging technologies that are going to deeply change how we will leverage Artificial Intelligence applications.
Check out the sessions from some of our world-class speakers in 2017:
Amir Khosrowshahi, CTO AI Products Group, Intel
Lanny Cohen, Group Chief Technology Officer, Capgemini
Jack Clark, Strategy & Communications Director, OpenAI
Richard Socher, Chief Scientist, Salesforce
Mårten Mickos, CEO, HackerOne
Hema Raghavan, Head of Growth Relevance, LinkedIn
Danny Lange, VP of AI and Machine Learning, Unity Technologies
Nicolai Wadstrom, CEO and Founder, BootstrapLabs
What people say about the Applied AI Conference:
"I wanted to compliment you on your event last week – really outstanding, top to bottom."

Bryan Barber, VP. at Warner Bros. Studios
"Congrats on a great event. It takes a lot of work to make things look that smooth and easy. You guys put on a good show, and made possible a lot of connections in the community."

Matt King, CTO at IUNU
"My hearty congratulations on the Applied AI conference last week. It was truly a tour de force of AI. I learned a lot and made many great new connections. Well done, yet again!"

Anonymous, US Government Official
An attendees list from the Applied Artificial Intelligence Conference 2017 is available at this link.
The 2018 schedule and speaker list will be announced shortly. You can follow the latest information here.
Don't forget to take advantage of our very limited super early bird tickets right now (save $1000) and don't hesitate to contact us if you're interested in speaking or sponsoring AAI18 at info@bootstraplabs.com.
https://bootstraplabs.com/wp-content/uploads/sites/4/2017/11/Applied-AI-Conference-2018.png
1080
2160
https://bootstraplabs.com/wp-content/uploads/sites/4/2018/08/Bootstrap-website_white_logo.png
2017-12-18 13:15:28
2019-09-29 16:04:02
Announcing the Applied AI Conference 2018