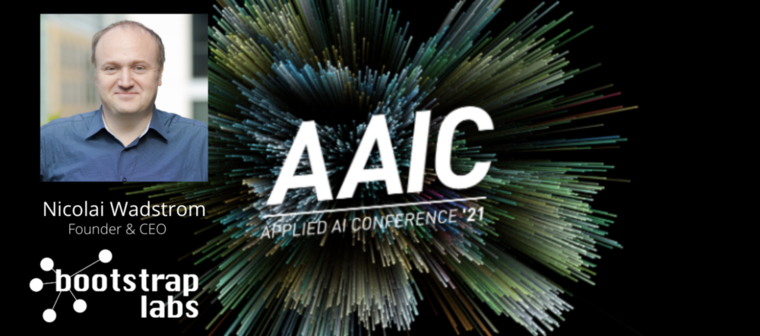 On May 25th, BootstrapLabs Founder and CEO Nicolai Wadstrom participated in the European Applied AI Conference 2021, which was based in Vienna, Austria, but held virtually.
At this year's conference, discussions focused on how to integrate AI into your business & organization, what are some of the best practices from corporations around the world, "Make or buy?" investments & corporate venture capital in AI, and ecosystem deep dives in France, Bulgaria, and the US.
In the session "Applied AI in the USA", panelists Colin Parris, SVP & CTO at GE Digital, Christoph Braunsberger, CFO & President US at Anyline, and Nicolai Wadstrom, Founder & CEO at BootstrapLabs discussed what is happening in the largest and most active market in AI, from the perspective of a corporate (GE Digital), an Austrian scale-up that completed a successful market entry (Anyline) and a pillar of the AI ecosystem + VC firm specializing in AI (BootstrapLabs).
Nicolai also delivered a keynote on "Linking the US and Europe" and how AI disruption is the next $30 trillion market cap. He shared his story and explained how BootstrapLabs has become a leading Venture Capital firm in Applied Artificial Intelligence. 
More about BootstrapLabs:
BootstrapLabs invests in mission-driven founders who want to shape a better future by applying artificial intelligence to solve some of the world's most important and valuable opportunities in sectors such as Mobility, Enterprise Productivity, Cyber, Health, Finance, Energy and Climate. BootstrapLabs is often the first institutional capital and acts as a lead investor at the early stages, with follow-on capital for the later stages. Founded by entrepreneurs for entrepreneurs, the firm has built a large community of Applied AI experts, founders, and executives to support its portfolio companies, and strives to be the most helpful and strategic investor, from product-market fit advisory to recruiting, business development, go-to-market strategy, and fundraising.
More about Nicolai Wadstrom: 
Nicolai is the Founder, CEO, and General Partner of BootstrapLabs, a leading venture capital firm, based in Silicon Valley and focused on Applied Artificial Intelligence and one of the most active firms in the Applied Artificial Intelligence space.
Nicolai launched his first business at 15, first tech startup in his early 20's and has been launching and building companies throughout his professional career. He llaunched BootstrapLabs in the San Francisco Bay Area in 2008. He brings 25+ years of operational experience as a founding CEO & CTO scaling software technology platforms in VR, Internet, Financial Trading Systems (publicly listed on NASDAQ:OMX), Enterprise Software, etc. Through BootstrapLabs he has invested in, advised, and mentored 35+ companies and founding teams, helping them successfully build and scale proprietary technology, products, teams and operations.
He is applying a lifetime of operational, entrepreneurial and technology product development experience to support the BootstrapLabs portfolio companies to build and scale. He is also a frequent speaker and mentor at top Universities and Conferences in the US and Europe on topics such as Artificial Intelligence, Entrepreneurship, Innovation, Disruption, Startups and Venture Capital.
To sign up for our mailing list, click here.
https://bootstraplabs.com/wp-content/uploads/sites/4/2021/05/imageedit_30_3525716918.png
336
760
BootstrapLabs
https://bootstraplabs.com/wp-content/uploads/sites/4/2018/08/Bootstrap-website_white_logo.png
BootstrapLabs
2021-05-26 10:58:34
2021-05-26 10:58:35
BootstrapLabs at the AAIC 2021 - Europe