The BootstrapLabs Applied Artificial Intelligence Conference 2019 #AAI19 brought together the brightest and most experienced experts in the field of AI for an immersive day of learning, discussion, and connection.
On our BootstrapWorks we have released the videos from this past conference to relive the moments and spread the knowledge around the diverse topics covered by our experts on stage. 
BootstrapLabs has built a community of more than 40,000 people from over 60 countries who care about applying Artificial Intelligence to solve the hardest problems of our society.
Get access to practical wisdom on Applied AI methodologies and take advantage of AI's powerful potential, sign up here to receive the videos directly into your inbox.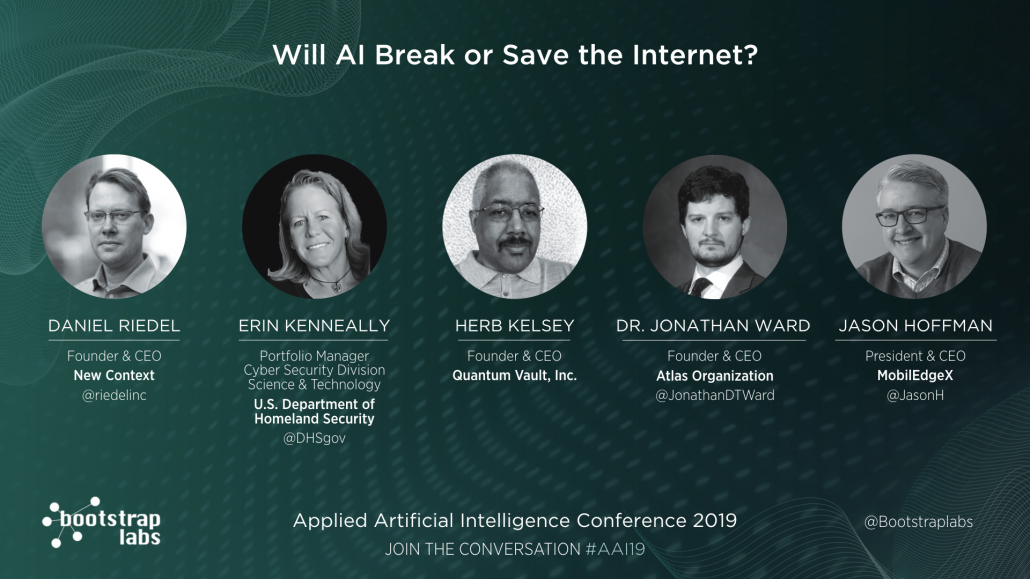 Together, the lack of attribution models, an integrated identity, and the complexity of establishing global privacy and ethical standards within the core building blocks of the Internet pose a critical threat to the very fabric of our modern society. Moderator Daniel Riedel, Founder and CEO of New Context, and panelists Erin Kenneally of the U.S. Department of Homeland Security, Herb Kelsey of Quantum Vault, Jason Hoffman of MobileEdgeX, and Jonathan Ward of Atlas Organization discuss how AI has contributed to the exacerbation of state actors, terrorist organizations, and criminals' political and ideologically motivated use of the internet for financial gain. The panelists also explore how AI presents an opportunity to alleviate that threat by strengthening our existing digital infrastructures and creating stronger platforms for the future stability, economic prosperity, and security of our society, companies, and citizens.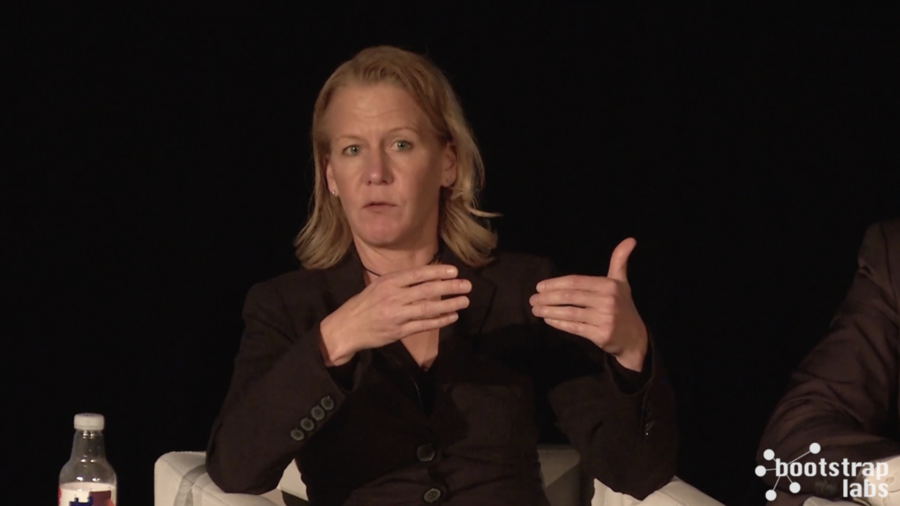 Moderator: Daniel Riedel, Founder & CEO, New Context
Panelists: Erin Kenneally, Portfolio Manager, Cyber Security Division, Science & Technology, U.S. Department of Homeland Security; Herb Kelsey, Founder & CEO, Quantum Vault Inc.; Jonathan Ward, Founder & CEO, Atlas Organization; Jason Hoffman, President & CEO of MobiledgeX.
Some of the key takeaways from the session are:
Currently, we do not have a collective mental model for AI and risk. AI is forcing a conflation of rights as well as individual, company and state interests like privacy, free expression, security, critical infrastructures etc.
AI is a tool and a strategy focused on optimization and care. It is very difficult to optimize something and thus important to have a strategy around how to optimize something and to understand all implications of that process.
AI is used in scoring and recommender systems, news feeds and search results and for classification prediction (crime, health etc.) which bears certain risks.
In a time of continuous accelerated change, it is important to go back to fundamental truths: The ability to generate unique insights via proprietary access to data is always advantageous.
If the delta between our growing AI capabilities and our expectations (laws: privacy, data protection, human rights etc.) continues to grow, we have:

Inefficient avoidance of risk.
Increasing tensions between legitimate stakeholders.
Undermining of trust in our ordering forces (law, markets etc.).

AI will break the internet, if:

It is in the hands of an attacker, allowing higher efficiencies in creating synthetic identities to simulate transactions, because this eliminates trust.
Automated social network behavior to influence politics as well as automated trolling or racist comments become the norm.
We fail to align our expectations with our capabilities.

AI will save the internet, if:

We use it successfully to protect, care for and optimize membership in open and insecure networks like the internet.

The pressure of the rise of China and its relationship with Russia on the liberal democratic world order will change everything on a geopolitical scale. We are going through two historical changes: Industry 4.0 and the rise of major-nation states with heated competition between two major world powers for the first time since the cold war. China as a leading investor in AI has a national AI strategy that aims to be the undisputed world leader by 2030 which shows the nature of this arms race. The alignment of state and company goals in China will lead to continued global confrontation of multinational companies with emerging champions from an authoritarian system.
About Daniel Riedel:
Daniel Riedel, the CEO of New Context, is an innovator in data security for highly regulated industries. He is a trusted authority in data security for the industrial internet, speaking before the US Senate Committee on Energy & Natural Resources, OASIS's Borderless Cyber and Johns Hopkins IACD, and has been published in the Washington Post, Federal Times, Wired and Dark Reading. Riedel has over 20 years of expertise building secure and scalable technologies, products and companies.
About Erin Kenneally:
Erin Kenneally is Program Manager in the Cyber Security Division of the U.S. Dept of Homeland Security, Science & Technology Directorate. Her portfolio comprises cybersecurity research infrastructure, privacy, security economics, and technology ethics. She manages the IMPACT, CYRIE, and Data Privacy programs. Erin is Founder and CEO of Elchemy, Inc., and served as Technology-Law Specialist at the International Computer Science Institute, Center for Internet Data Analysis and Center for Evidence-based Security Research at the University of California, San Diego. Erin is a licensed Attorney specializing in information technology law, including privacy technology, data protection, AI ethics and legal risk, trusted information sharing, and technology policy.
About Herb Kelsey:
Herb Kelsey's time as Chief Architect for NSA/CSS LSI and at IBM as Federal CTO for cybersecurity heavily influenced his 25-year career. At NSA, he learned to engineer for global scale and secure systems against ruthless villains. IBM taught him product management and enterprise integration. He's deployed these skills for corporations, our country, and our allies. Most notably, as the head of computation for U.S. National Counter-Terrorism Center (NCTC), the highest volume, most secure, yet heavily attacked analytic fusion center in the world. His passion is making the global, networked, world safe for transactions, private information, intellectual property and children.
About Jonathan Ward:
Dr. Jonathan Ward is the Founder of Atlas Organization, a DC and NY based consultancy focused on the rise of India and China, and US-China global competition. He is the author of China's Vision of Victory, about Chinese global strategy and what America must do to respond. From travels in Tibet and across the South China Sea, to accessing restricted Communist Party archives, to consulting for the U.S. Department of Defense and Fortune 500 companies, Dr. Ward has brought the experience of a traveler and scholar, and the insight of a strategy consultant to one challenge: what does China want, how will it try to get it, and what should America do?
About Jason Hoffman:
Jason Hoffman is the President and CEO of MobiledgeX, a company focusing on edge computing and founded by Deutsche Telekom. Previously he was a CTO at Ericsson AB and was P&L responsible for their cloud and datacenter infrastructure business. While at Ericsson his group created the world's first hyperscale, disaggregated system and led the market in the modernization of telecom infrastructure. Prior to Ericsson, he was a founder and the CTO at Joyent (now owned by Samsung), a pioneering high-performance cloud IaaS and software provider, where he ran product, engineering, operations, and commercial management for a decade.
https://bootstraplabs.com/wp-content/uploads/sites/4/2019/06/AAI_CONFERENCE_Presentation_FINAL_4-12.017.png
1080
1920
BootstrapLabs
https://bootstraplabs.com/wp-content/uploads/sites/4/2018/08/Bootstrap-website_white_logo.png
BootstrapLabs
2021-03-11 09:22:48
2021-03-11 09:22:49
Flashback: BootstrapLabs Applied AI Conference - Will AI Break or Save the Internet?