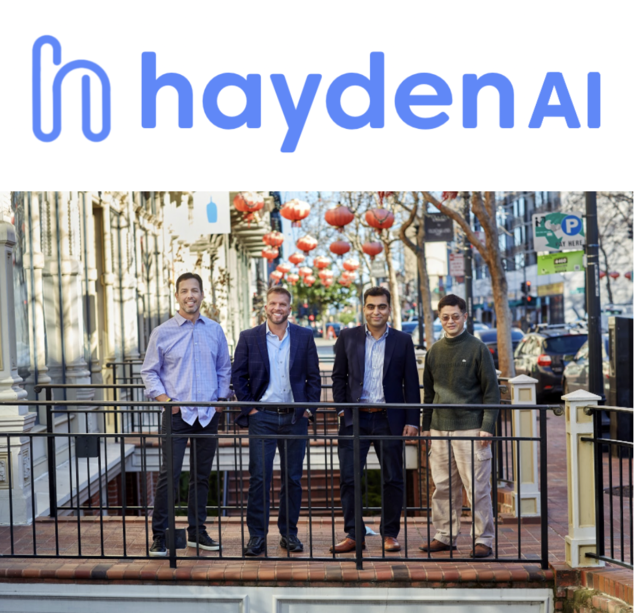 Hayden AI – Applied AI and Smart Cities
The concept of Smart Cities has evolved as a need for cities to operate more efficiently and serve their citizens better. The problem is that today's cities are data poor – they have very little real-time or historical data about what exists in their cities and what happens on their streets and curbs.
Gathering detailed data leads to insights and knowledge that can be used for everything from traffic enforcement and maintenance of infrastructure, to long-term planning and policy, which is essential not just for creating the cities of tomorrow, but for the efficient use of local tax dollars and the safety of its citizens.
Hayden AI's platform provides cities with the ability to automate the gathering of real-time data using advanced computer vision and artificial intelligence to create a Digital Twin and knowledge graph of a city's streets and curbs and the events that take place there.
Early customers are looking to use Hayden AI's platform for real-time and automated traffic enforcement, such as bus lanes and school bus violations in major US cities.
Next, Hayden AI will expand their offering to cover a wide range of automated AI powered services and insights to empower the smart cities of the future.
Hayden AI has been a BootstrapLabs portfolio company since 2020.
Chris Carson, a former U.S. Marine in the Fleet Anti-Terrorism Team (FAST), is the founder and CEO of Hayden AI. Chris and the founding team have experience in deploying sensor systems, computer vision, and state-of-art Simultaneous Localization and Mapping (SLAM) systems for autonomous vehicles and Smart City applications. He is a global strategy, innovation, venture development expert, and thought-leader for disruptive and digital innovation. Chris cultivated his expertise over 20 years, working in various operations and engineering roles with technology-driven multinationals, startups, and consultancies. Chris holds a Ph.D. in Information Architecture and Computer Vision from Waseda University.
Vaibhav Ghadiok is the co-founder and VP of Engineering at Hayden AI. Vaibhav is an engineering leader with a track record of productizing robotics technology from lab to industry. He has 10+ years of experience in sensing, perception, navigation, and control of autonomous UAVs and mobile robots. Vaibhav has an extensive ability to build and lead multi-disciplinary teams spanning theory to systems while working cross-functionally with product, sales and business development. Vaibhav received a Master of Science in Mechanical Engineering at University of California, Riverside, and a Master of Science in Electrical Engineering at Utah State University.
Bo Shen is the co-founder and CTO at Hayden AI. Bo has extensive industry experience in developing large scale, high performance multimedia systems, especially in the areas of image/video/audio coding, distributed caching and adaptive streaming, computer vision, and machine/deep learning. He also has distinguished research experience in areas of multimedia signal processing and networking systems. Bo received a Ph.D. in Computer Science at Wayne State University.
Michael Byrne is the co-founder and VP of Product Management at Hayden AI. Michael is a passionate and dynamic professional with 20+ years of experience in product development & business strategy. He spent 18 of those years in the product management, marketing, and business growth of key technologies for the safety & risk management industries with a primary focus on commercial fleets, commercial insurance, automotive OEMs, and strategic platform partnerships. Michael has also extensive experience in C-level enterprise sales, contract negotiations, channel development & relations, product marketing & business strategies, as well as formal public speaking. Michael received a Bachelors of Science in Mechanical Engineering at San Diego State University.
https://bootstraplabs.com/wp-content/uploads/sites/4/2021/04/imageedit_16_5541095976.png
613
636
BootstrapLabs
https://bootstraplabs.com/wp-content/uploads/sites/4/2018/08/Bootstrap-website_white_logo.png
BootstrapLabs
2021-04-29 09:14:29
2021-04-29 09:14:31
Founder Stories - Hayden AI