The BootstrapLabs Applied Artificial Intelligence Conference 2019 #AAI19 brought together the brightest and most experienced experts in the field of AI for an immersive day of learning, discussion, and connection.
On BootstrapWorks we have released the videos from this past conference to relive the moments and spread the knowledge around the diverse topics covered by our experts on stage. 
BootstrapLabs has built a community of more than 40,000 people from over 60 countries who care about applying Artificial Intelligence to solve the hardest problems of our society.
Get access to practical wisdom on Applied AI methodologies and take advantage of AI's powerful potential, sign up here to receive the videos directly into your inbox.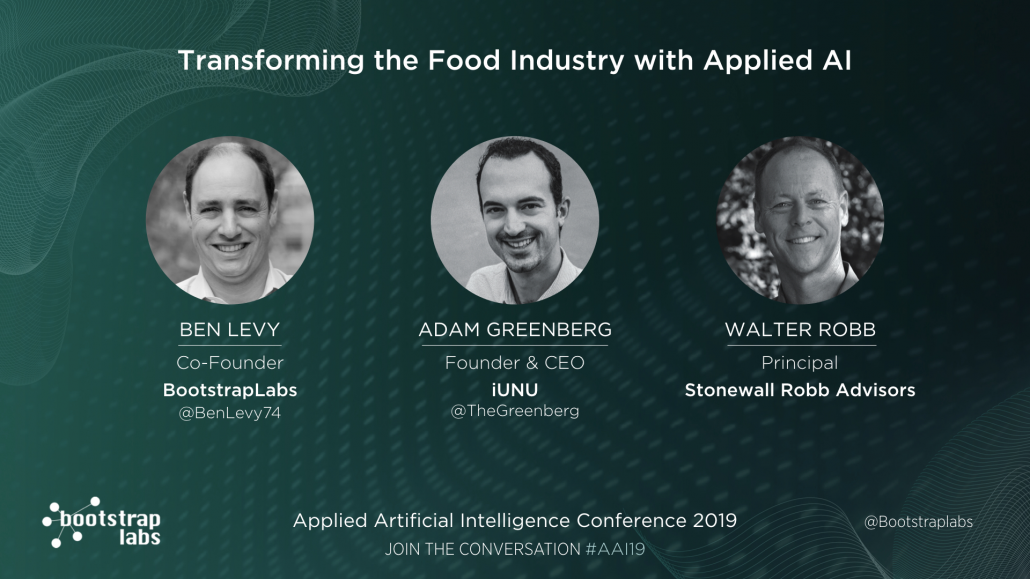 By 2050, world population is projected to reach over 9 billion, increasing the demand for food dramatically. In this session, panelists Walter Robb, former Co-CEO of Whole Foods, and Adam Greenberg, CEO of iUNU, discuss how to create and incentivize a healthier, more transparent, and more efficient food supply through controlled environment agriculture (CEA), computer vision, precision agriculture, and other emerging AI applications.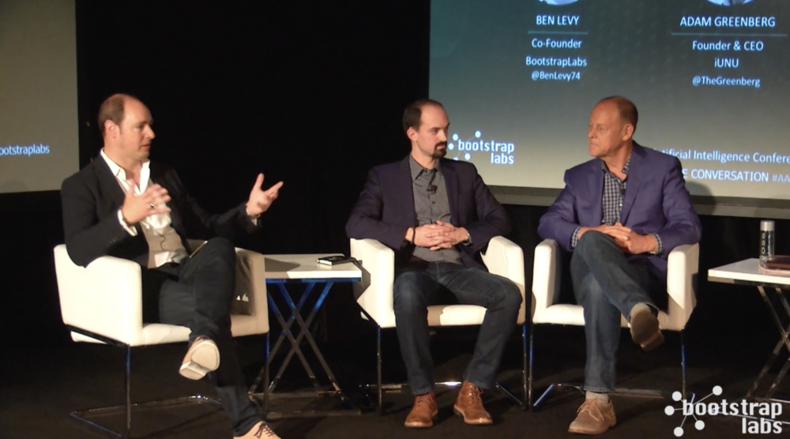 Moderator: Benjamin Levy, Co-Founder, BootstrapLabs
Panelists: Adam Greenberg, Founder & CEO, iUNU; Walter Robb, Principal, Stonewall Robb Advisors, Entrepreneur & Former Co-CEO, Whole Foods Market
Some of the key takeaways from the session are:
We have come to a great inflection point with increased disruption, change and opportunity in food and agriculture.
Currently we are still losing 40% of food we produce and we are using 5 pounds of soil for every pound of food which means that we are burning through our soil.
On the other side, the use of synthetic chemicals (pesticides, fertilizers) will be outperformed by botanicals and consumers are increasingly aware that the quality of food matters.
Technology today helps to serve the customer the way they want to be served and the companies which take a tech-forward approach in their go-to-market strategy succeed.
Challenges in agriculture today:

Farmers can lose 20-30% of plants because they do not know where they are.
63% of growers are above 50 years old but replenish rate is only at 2-3% per year which means knowledge and working power gets lost.

The question is how to scale a grower. Currently, they spend between 5-10% a day using their knowledge to solve problems. By bringing the problem to them, they can focus on these issues 60-80% of their time.
iUnu is offering an automated inventory tracking software with robotic vision and AI to identify issues and allow forecasting. This way they provide value and context to producers (who often are not tech savvy) with an easy to use system.
Future developments:

The number of farms in the US is down, but organic and indoor farming is growing.
Soy-based proteins could be up to 30% of the market.
More biodiversity will be discovered in the next world of food while today, 75% of our food is based on 12 plants and 5 animals.
Food will be a big part of the healthcare because health and nutrition is individually based on your biome and can now be tailored with modern technology.
Soon stores will be able to recognize consumers and tailor real-time offers if the consumer gives permission.

Other current AI developments include tracking insects to give recommendations how to treat pests more efficiently as well as assessing the combination of foods to figure out the unintended consequences of putting foods together.
About Ben Levy:
Prior to BootstrapLabs, Ben Levy was a repeat entrepreneur who launched, built, and exited two startups in the financial technology space, Praedea Solution and InsideVenture. He was also a Technology, Media, and Telecom Investment Banker who advised startup founders and CEOs of Fortune 500 companies on corporate strategy, financing, and M&A. Ben helped his clients raise over $300M from institutional investors and close over $5B in M&A transactions. Ben is a frequent keynote and panel speaker on innovation, technology investing, entrepreneurship, AI, and globalization in the US, Europe, and Asia.
About Adam Greenberg:
Adam Greenberg has a passion for solving fundamental global challenges and brings a clear vision of how iUNU will be a major player in that solution. Adam grew up with a love for agriculture through the lens of his botanist father. He founded iUNU in 2013 as he saw how precision agriculture could revolutionize food production. Adam earned his degrees in Finance and Entrepreneurship from the University of Washington. He spent two years at Amazon, but ultimately found his passion in leading innovation. Adam enjoys presenting for organizations such as the U.S. Farm Bureau, Indoor AgCon, Orange telecommunications and many more.
About Walter Robb:
Former Co-CEO of Whole Foods Market Walter Robb has a long and varied entrepreneurial history, ranging from natural food retailer to farmer to consultant. Robb joined Whole Foods Market in 1991 and was named co-CEO in 2010, at which time he joined the Whole Foods Market Board of Directors. In 2017, Robb transitioned his focus to his role as an advocate for greater food access in underserved communities, serving as Chairman of the Board for Whole Kids Foundation and Whole Cities Foundation. Robb is an Executive in Residence at S2G Ventures and serves on the Board of Directors for Union Square Hospitality Group, The Container Store, FoodMaven, HeatGenie and Apeel Sciences.
https://bootstraplabs.com/wp-content/uploads/sites/4/2019/06/AAI_CONFERENCE_Presentation_FINAL_4-12.011.png
1080
1920
BootstrapLabs
https://bootstraplabs.com/wp-content/uploads/sites/4/2018/08/Bootstrap-website_white_logo.png
BootstrapLabs
2021-05-06 09:24:34
2021-05-06 09:24:34
Flashback: BootstrapLabs Applied AI Conference - Transforming the Food Industry with Applied AI